If you follow any travel bloggers or photographers on social media, then you've undoubtedly seen photos of Alberta scattered throughout your feed more than once. From Lake Louise to dozens of impressive Canadian waterfalls, Alberta is an Instagram goldmine.
The question is, what parts of the nearby national parks are actually worth visiting? If you only have a handful of days to spend in the area, then you certainly can't dash to every popular photo spot. Just driving from your lodgings to the first stopping point can take hours. Therefore, how can you decide how to spend your limited time in this mountainous, magical place?
Well, for starters, you need to understand how the area is laid out. You'll most likely fly into Calgary, which is a well-populated Canadian city with basic amenities like Walmart and Little Caesars. After, you'll head out to Banff National Park, which is known for its skiing and tourist attractions.
I'd highly recommend staying at the nearby city of Canmore instead of finding accommodations in Banff. Because Banff is located within a national park, the prices are higher, so you can save a bundle by just staying fifteen minutes away across the border of the protected land. We stayed at this lodge and had a wonderful experience.
Your adventure shouldn't stop once you set foot in Banff. Based on my experience, here's the absolute best way to spend a long weekend in the area once you've arrived.
Day 1: Explore the Area Around Banff
You came to see Banff, so see it! Spend some time meandering through the overpriced tourist shops, tasting some of the popular sweets (Rocky Mountain Chocolate is divine), and generally soaking up the atmosphere. Not only is this a great way to ease yourself into Alberta, but it's also smart to let your lungs adjust to the altitude before embracing any strenuous activities.
While you're in the town area, be sure to check out the Cave and Basin National Historic Site. It's about ten minutes from downtown, and the cheap admission is well worth it. You'll get to see the turquoise waters of the hot springs that birthed this entire national park.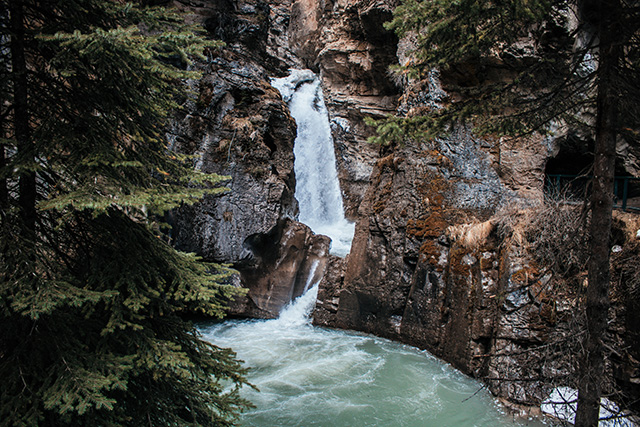 Afterward, if you're feeling up to it, head to Johnston Canyon. There are two waterfalls to witness there, the Upper and Lower Falls, and they're a fantastic introduction to this beautiful region. Be prepared for a fairly long hike, and during the colder months, the paths will be quite icy, but the views make it all worthwhile.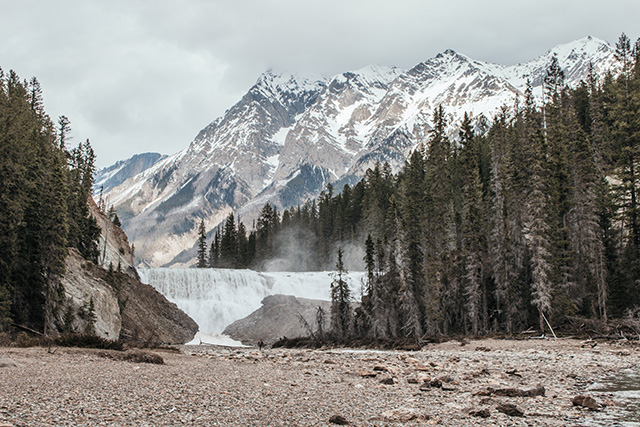 If you can, spend your sunset by Bow Falls. Located right in town, it's super easy to access and absolutely stunning in the light of the setting sun. Plus, the nearby golf course of the Fairmont is usually popular with elk and deer, so you'll get to spot some wildlife.
Day 2: Chase Waterfalls and Views in Yoho
Yoho National Park shares a border with Banff National Park, and although it's not as well-known with most visitors, it's truly a hidden gem. Driving along this park's curvy roads is like being in another world. There are emerald lakes, ponds, and rivers peppered along the landscape and enormous mountains framing every scene.
But the best part? It's the waterfalls. Depending on what time of year you go, you'll be able to see more than a few raging falls. Do some research beforehand so that you know what roads will be open and which waterfalls are actually accessible.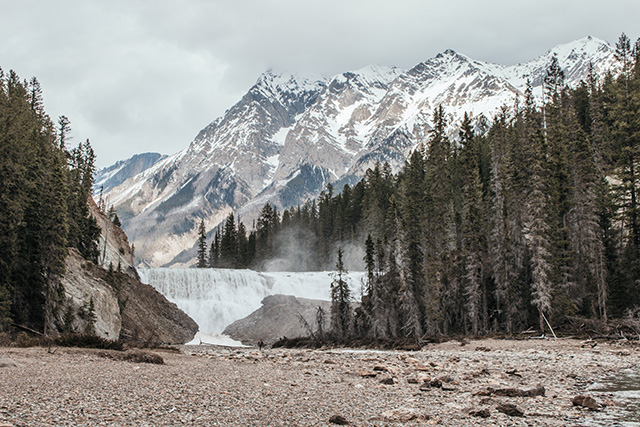 My personal favorite of the bunch is Wapta Falls, which should be at the top of your to-see list in Yoho. The hike starts out on the road, then quickly becomes a trek through mud and thick trees. You'll feel like a loner out in the midst of true Canadian wilderness. Then, after a few miles, you'll come across falls that can be heard when you're still several minutes away. Once you glimpse the roaring waters of Wapta, don't stop there: hike down to the floor and get as close as you dare. Anyone will feel invincible and alive after facing these powerful waters head on.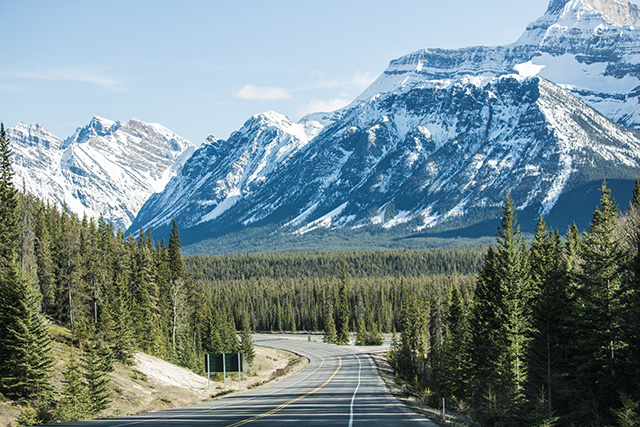 Day 3: Make the Trek to Jasper
Now, this one is only doable if you have a car and can dedicate at least seven hours or so to driving. Staying in the Canmore or Banff area is lovely, but it does make accessing Jasper a bit difficult. Still, I'd highly recommend waking up early and making the journey to this national park. Of the three (Banff, Yoho, and Jasper), this national park is by far the best for viewing wildlife. While there, I stumbled across a moose and two black bears on the side of the road in within the first hour.
That's not the only reason to visit Jasper National Park; it's downright gorgeous, and you will fully feel immersed in the beauty of the Rocky Mountains. It's by far the largest swatch of protected Canadian Rockies. Plus, you can experience a variety of exciting hikes, including the path to the Columbia Icefields that hold the Athabasca Glacier. You can also hunt down more waterfalls and stunning views of the river.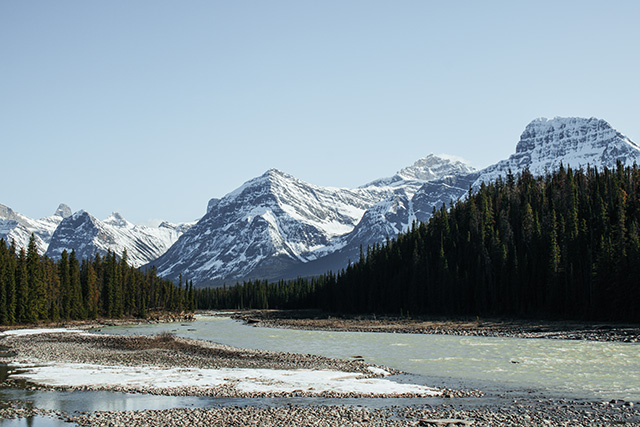 What to Skip on This Trip
If you only have three days or so to spend in Alberta, you'll obviously have to make some difficult sacrifices. What you give up can depend on your personal preference, but in my opinion, I'd recommend skipping the overly-touristy attractions.
Lake Louise is spectacular, but in all honesty, it's only at its peak beauty for about three months of the year (June through August). As a result, the crowds flock to the lake and spend hours there snapping photos. It's about as Disney World-esque as you can get in Canada. My advice? Stop by, take one photo, but then move on. There are so many other underrated sights to see that won't be overrun by tourist buses and Instagram models.
I'd also recommend saving time by not traveling too deep into Jasper. We only went as far as Athabasca Falls, and we saw plenty of wildlife and felt that we got a great feel for the park. Going in further would only have upped our gas bill and given us more hours to sit in the car, which wasn't worth it with our time constraints. Sure, if we had two weeks we would have gone, but a long weekend isn't enough time to experience everything.
To Sum It All Up
Despite how stunning and serene Alberta may be with its picturesque landscape and abundance of wildlife, it is imperative to be prepared for anything that nature may dish out. There are certain aspects of the great outdoors that will be out of your control. The two main variables are weather and wildlife. Travelers must be prepared for a variety of climates and temperatures. At the end of the day, staying warm is the most important aspect of survival. Furthermore, you DO NOT want to forget about wildlife! Intruding into the homes of the local animal population can be dangerous and one must stay alert to the surroundings at all times. To help you stay safe, we have compiled a list of a few items/resources that outdoorsmen (and outdoorswomen) should keep in their car or on themselves at all times.
Looking for more information on the topic? Check out this piece from Trails.com
Alberta is a breathtaking place to spend any amount of time, whether it be two days or two weeks. Try to check all three national parks off your list, do some hikes, and most of all, stop and take in the views every few minutes. Hopefully, these recommendations will assist you as you plan your trip's itinerary and try to soak up every bit of Alberta's beauty.