So, your love of traveling and writing have finally come together to form a travel blog. Not only do you want to share your experiences with the world, you want to provide valuable advice to other travelers.
While you may very well be creating the most compelling and insightful travel content the internet has ever seen, it's not doing anyone any good if people don't know it exists. Unfortunately, the "build it and they will come" mentality won't likely give you the traffic numbers to justify your time and effort. Unless you want your website to function as a private journal, it needs to be optimized for the search engines.
If you aren't familiar with digital marketing lingo, like many other travel bloggers, the term SEO (Search Engine Optimization) might sound a bit intimidating. The good news is there are plenty of surface level tactics that can do wonders to get your content in front of more eyes.
Here are three very basic SEO tips that even the most entry-level blogger can pick up.
1. Include Trending Keywords
Keyword research is the backbone of SEO. The goal is to identify terms and phrases people are searching for on the web and strategically include them within your content. The search engine robots will then crawl your webpages and assign them a ranking based on those keywords – along with a number of other factors. The ranking determines where your content is placed on the search engine results pages (SERPs).
Fun fact: Over 90% of Google searches never go past page one of the SERPs.
The Google Keyword Planner is a super user-friendly tool for research. Let's say the goal of your content is to give advice for luxury travel. Enter the term "luxury travel" as the search item.
The program will then give you hundreds of suggestions for keywords along with their search volume. These are all potential terms your content can rank for on the SERPs. Now, you don't want to try and rank for the super broad terms with high competition. Let's Google "luxury travel" and see what comes up.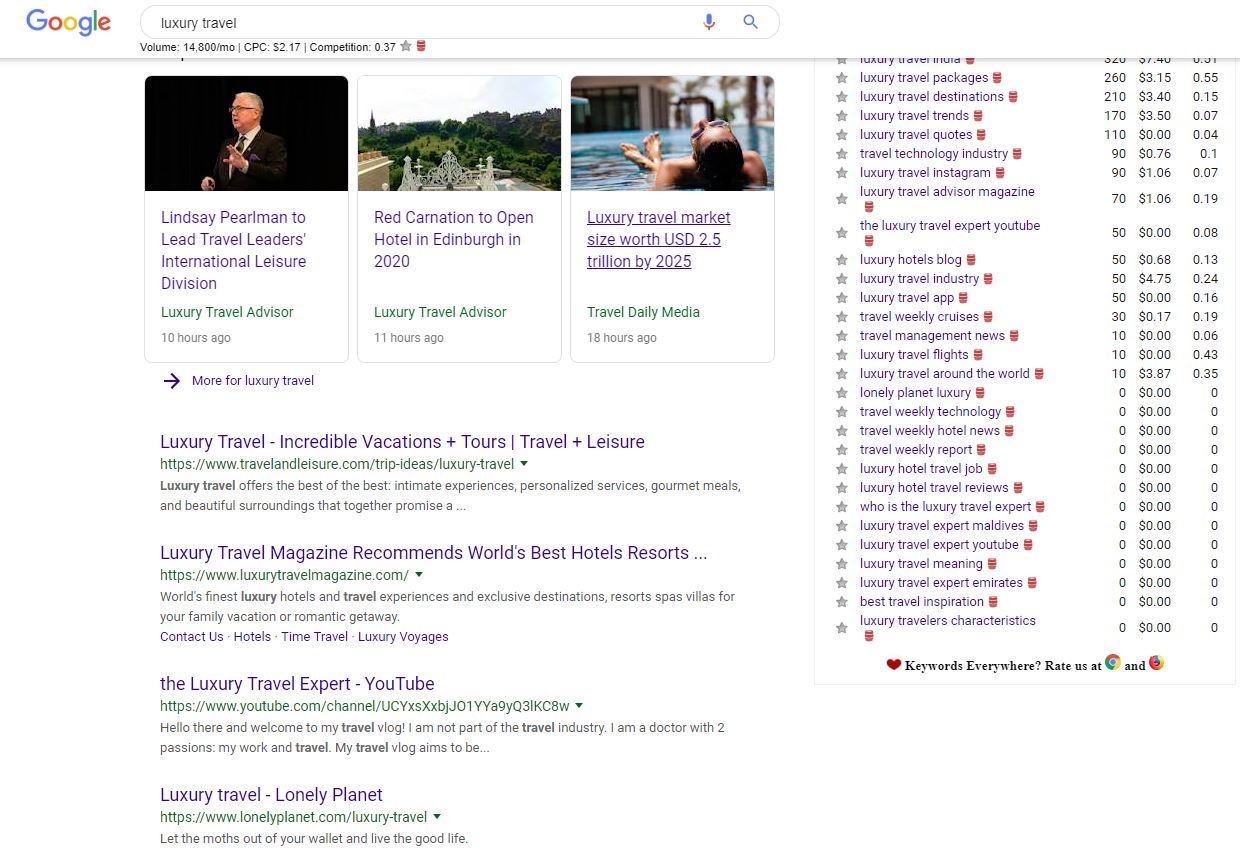 If you want to rank for this term, you're going up against Luxury Travel Magazine, Travel + Leisure Magazine, and Lonely Planet. As great as your content is, sadly, you probably won't outrank these websites in a million years.
While you want to rank for keywords that are getting decent search volume, don't reach for the top shelf. Try to get a little more specific to what makes your content unique, yet relevant.
Instead of the term "luxury travel" (which gets 14,800 searches/month), try ranking for terms like "luxury travel destinations" (210 searches/month) or "luxury travel trends" (170 searches/month).
Side note: Another tool I love for keyword research is the What's My SERP extension. When you make a Google search, it shows you the search volume of the term and a bunch of related keywords and phrases.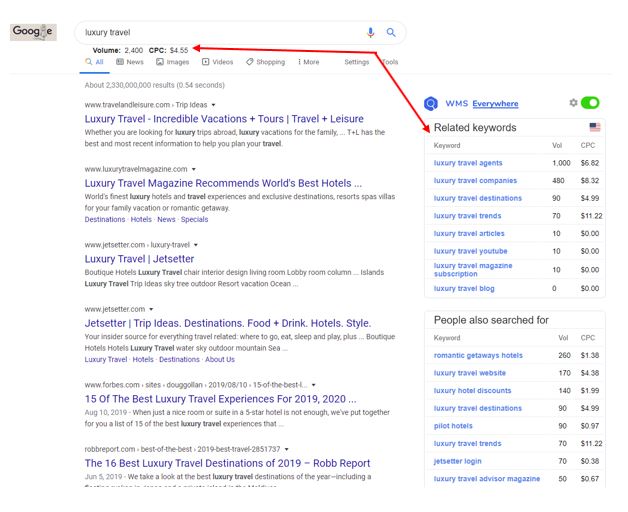 Once you've nailed down a good list of keywords that aren't impossible to rank for, you can include them within your content. Just be careful not to overstuff. In addition to sounding spammy and repetitive, the search engines will see what you're trying to do and can penalize you for it.
2. Get More Link Juice
"Link juice?"
What is link juice??
This term refers to the amount of authority (value) that a link on one website passes to another. The more websites that include links to your travel blog, the more link juice you get. Which in turn, boosts your domain authority and SEO value.
However, all websites are not equal in terms of link juice. The sites that Google views as more trustworthy hold more juice. Those are the ones you want to get your links on.
The good thing about being a travel blogger is there are seemingly endless amounts of relevant websites with lots of link juice. Many of which allow guest posting.
You'll want to search for sites related to your niche and reach out for an opportunity to write for them. Base your decision on their domain authority. Just be sure they allow you to include a dofollow link to your website before making contact. If they only do nofollow links, you won't get any of that precious link juice.
Take the time to read up on the website so you can write content that falls in line with their mission. Tell the editor a few things they do well, then suggest a couple ideas for potential posts.
The more trustworthy sites link back to yours, the better you will look in the eyes of Google.
3. Help Google Understand Your Website
Perhaps the biggest sin you can commit when running a website is making it complicated for the search engines to crawl. After all, how can they rank it if they don't know what it's all about?
There are a number of simple things you can do make this process easier for the all-powerful robots.
For one, you need to add appropriate, readable text on your webpages to give search engines a clear idea of what they are. This includes your homepage, about page, contact page, ect. Refer to your keyword research. If your site talks about luxury travel, you'll want to use terms with moderate competition, but still relevant to your content.
Second, if you write about multiple travel related topics, create separate category pages for each.
You'll then want to publish a page that provides an overview of the category and is linked to your navigation for each subject.
Third, always interlink your content when possible. For example, let's say you're writing about resorts in San Diego. If you previously wrote a post about beaches in San Diego; include a link to it in the resorts post. Just make sure the context flows organically with the content and doesn't sound like it came out of left field. This helps the search engines connect the dots.
Lastly, keep your URLs short and concise. It's recommended to create slugs between 3-5 words long to instantly give readers and crawlers a clear idea of what the content is about.
Like this: https://www.yourwebsite.com/7-luxury-hotels-boston
Tools like RapidRex are great (and super user-friendly) for building a view of your website from a SEO standpoint. It allows you to create a data profile and see your website similarly to how the search engines see it. From this vantage point, you can gauge the keyword optimization across your pages, flag metadata issues, and more.
Basically, if you make life simple for both readers and robots, the search engines will reward you for it.
Over to You
Running a travel blog is awesome. However, the last thing you want is to have all your wonderful content go completely unnoticed.
SEO doesn't have to be a scary technical term. Once you write more and stick to the basic practices, it will naturally become part of your website and content routine. If you have any more quick SEO tips for travel bloggers, feel free to add them in the comments!