Before boarding my flight to Portland, I had already heard a multitude of tidbits about my final destination. "It's weird," some people said. "It's beautiful!" others exclaimed, but the resounding consensus was always the same: it's an awesome, historically significant place worth visiting. So, when affordable flights popped up on my radar, I knew I had to go.
I only had about two days to spend in Oregon, so I knew I had to make them count as much as possible. Here's how I crammed a busy schedule into 48 hours. It worked well for me, so I hope my itinerary inspires you to sneak a peek at the artsy, delicious, and naturally beautiful sides of Portland.
Day 1: The Coast and Cuisine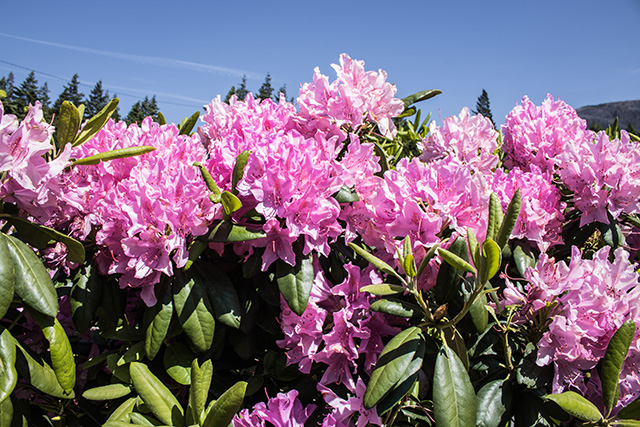 Upon arriving in Portland, you'll notice how incredibly green everything is. Flowers explode from large beds in people's lawns. Trees are constantly being cut back to prevent their overgrowth onto streets and highways. Even when you're standing in the middle of the city, you can't help but feel that you're surrounded by nature.
However, that's not an excuse to stick to the city grounds. If you're a nature lover like me, you'll want to get out and explore more than just the shops and restaurants. That's why I'd highly recommend making the trek out to the nearby coast. It's about two and a half hours from the city center, depending on where you're heading, but the views are well worth the drive.
If you really want to get a feel for the wildlife near Portland, do yourself a favor and sign up for a whale watching excursion. I went with one that was about an hour and a half long and led by a marine biologist, who was able to point out four different gray whales residing in the Depoe Bay area. I'd never witnessed a whale surfacing in person, and I was awed by the sheer size of the creatures. If seeing a whale up close is on your bucket list, then your trip to Portland might provide you with the perfect opportunity.
Whale watching isn't the only thing to check out on the coast. There are hikes along the shore, seafood restaurants with fresh fare, museums, aquariums, and more. You can also check out other activities on the river and ocean.
If you can, begin your drive back to the Portland area at a reasonable time so that you can grab dinner in the city. Portland is an area exploding with interesting food and drinks, so you don't want to miss the opportunity to check out some of their most unique dining experiences. My companion and I dined at Pok Pok, a Thai fusion restaurant, and had a wonderful time experimenting with strange combinations and extremely spicy dishes.
Is Thai food not your thing? Burgers are another Portland specialty. Go with a chain like Killer Burger or check out some of the mom and pop shops around the area. There are also food trucks galore in certain areas. I'd highly recommend snagging a greasy, heavenly cheese sandwich from The Grilled Cheese Grill, then wandering around on foot while you munch on the gooey goodness.
Day 2: Walls, Wine, and Waterfalls
Begin your day in the city. Meander around Powell's enormous bookstore or check out the amazing graffiti splattered across walls here and there. Portland is truly a hub of artistic trends and people who love to express themselves, so taking some time to absorb that part of the culture is a must.
Once you've had your fill of being inside the city, if you're looking for more outdoorsy interests, take the short drive out to Multnomah Falls. In less than half an hour, you can move from downtown Portland to a massive waterfall that is fed by an underground spring. More than two million people visit these falls in the Columbia River Gorge every year, and it's easy to see why. One look at the striking old bridge and constant stream of free-falling water will convince you that the trip was worth it.
Another thing about Portland: this is a city that knows and loves its wine. After all, it's situated within driving distance from some of the best wine country around. So, if you consider yourself a lover of wine, you'll need to dedicate some time to explore the various shops and vineyards nearby.
If you want to keep things simple, hit up some wine stores in town. Bar Avignon and other shops are renowned for their wines, and most stores offer tastings for a price. To make things even more exciting, look into tours you can take with local vineyards. There are even group excursions that will take you to Multnomah Falls and other sights, then direct you to the food and drink portion of the experience.
Heading Home
In all honesty, you'll have an amazing time in Portland no matter how you structure your days. You could have two days in the city or seven and you'd still run out of time to see and do everything. My recommendation? Try to mix a bit of culture, nature, and food into your weekend and you'll be golden.