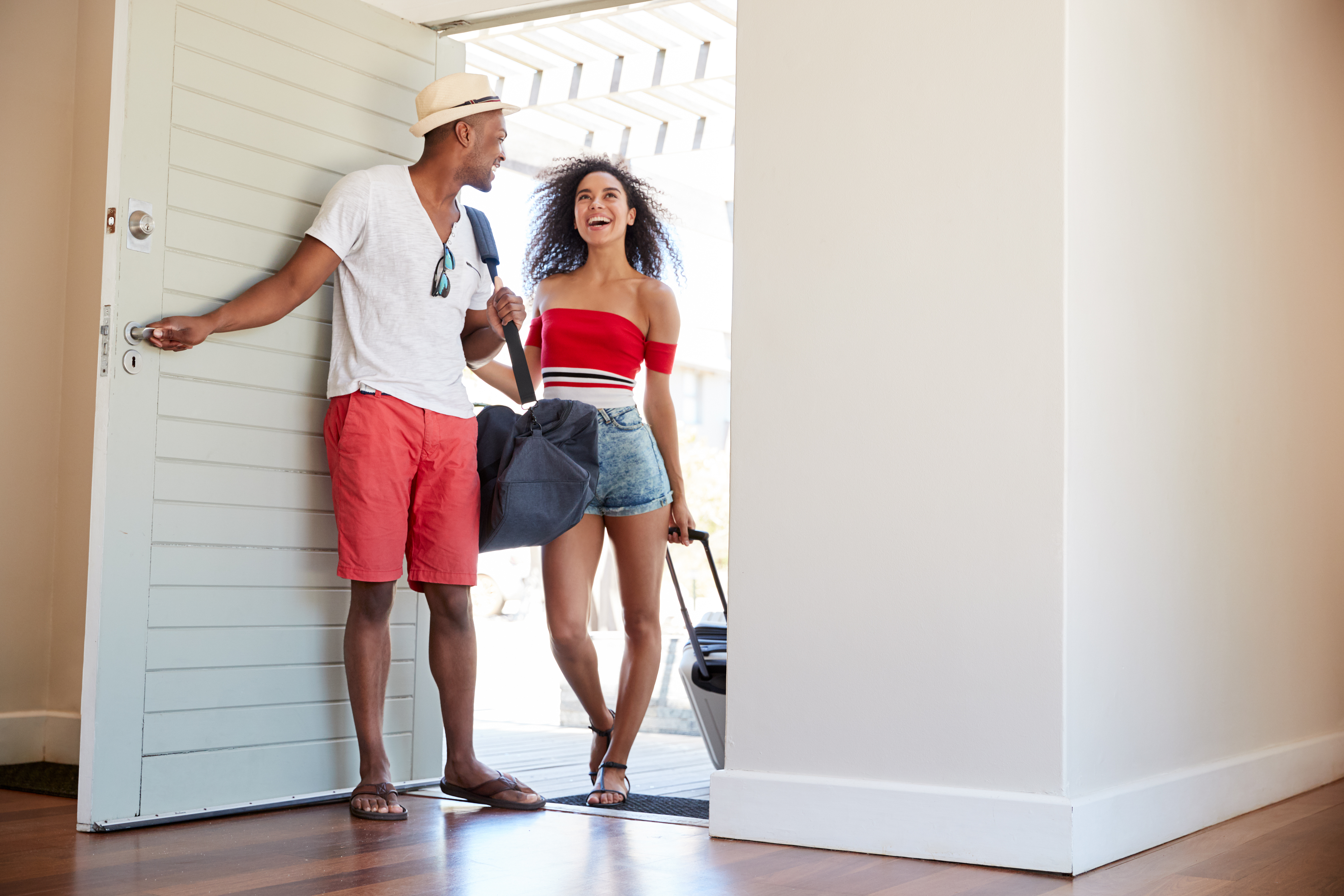 Taking a vacation with your friends and family is such a special time to get together and explore a new area. Before booking a vacation rental property, consider what you want in a rental. Shop around on different vacation rental sites to find the home that fits your needs at the best value. There are some things you'll have to give up when staying at a vacation home, however, these 6 things should never be compromised when booking a vacation rental.
#1 A Functioning Kitchen
When paying for a vacation rental vs. a traditional hotel you should expect to have use of a kitchen. Not all kitchens are created equal, so before booking your vacation rental, ensure you have a kitchen stocked with the essentials you'll need to cook such as utensils, cups, pans, etc.
Booking a rental home for your vacation with a kitchen has several benefits. You can save money when traveling by making a few meals at home. Additionally, you can easily reheat leftovers on your stay. Unlike hotels, which may provide you with a microwave and mini-fridge, vacation homes with kitchens should have everything you need to enjoy your leftover food from a delicious restaurant.
#2 Good WIFI
This may seem like an obvious amenity for vacation rentals to have, however, due to the lack of vetting some vacation rental sites perform on their hosts, be aware to read the listing carefully before booking. WIFI is likely included with your vacation rental however I've stayed at some places in Europe with a gigabyte limit per day or tremendously slow WIFI.
If the listing isn't super clear about the WIFI capabilities be sure to check the comments to ensure previous vacationers had a good experience in the property. Likely if there were any WIFI issues people are quick to show their dissatisfaction in the comments. If you need WIFI for more than just recreation, be sure to send the host a message before booking to confirm you will have good enough WIFI speeds to work. Also, be aware that some rental properties with several units use one router for each floor, so if you work with sensitive information you could be working on a somewhat public WIFI connection.
#3 A Comfortable Bed
When traveling in a new place you don't want to spend your vacation in pain from sleeping on an uncomfortable bed. Check to see if the listing mentions if they have a spring or memory foam mattress, and if not, ask! Especially if you have trouble sleeping on certain kinds of mattresses, it's better to ask beforehand then spend your vacation wishing you had booked a vacation rental with nicer beds.
If you aren't super sensitive to sleeping on different kinds of beds but you will want to know if the bed was comfortable, look through the reviews on the site. Again, if the bed was truly atrocious, several reviews would likely mention it. If not, it's likely the bed was decent and worth sleeping on.
#4 Proper Heat / Air Conditioning
When traveling and staying at a vacation rental, remember that amenities are not standard as they are at a hotel. Read the booking carefully to understand what kind of amenities the rental has. This is especially important if you are traveling to the area during very hot months or very cold months. Make certain your rental includes air or heat.
Air conditioning and heating should be listed, however, if it's not, you should always ask. Although we all have our own expectations of what should be included in vacation rentals, some hosts might be under a different impression. Be sure to ask if there is one unit or central heating or air. You don't want to pay for a nice getaway only to get stuck sleeping in a freezing cold or blistering hot rental.
#5 A List of Local Attractions
Unlike a traditional hotel stay with recommended excursion packages, vacation rentals offer a chance to see the area in a more authentic, and local way. That's why finding a vacation rental with a list of recommended local attractions is important. This gives you the chance to see the area from a different perspective.
If you book a good vacation rental, the host will typically leave a list of local eateries and attractions in the area for you to try out while you're in town to really experience the area like a local! Family attractions a host might suggest here in San Diego include walking around Balboa Park, a local kids jiu-jitsu class to get a taste of the Brazilian influence in SD, or going to a taco shop for a couple of fish tacos or a famous California burrito.
#6 A Host with a Clean Background
The most important thing a vacation rental property host should have is a clean background. When booking a vacation rental in an unfamiliar area you want to be sure that you can trust the person hosting you in their property. Vet property hosts by reading reviews of their various properties and doing a google search of their name to ensure no lawsuits or charges have been brought against them.
If you have any doubts about your rental host, feel free to run a background check on them. Doing this eliminates any chance at all of you staying in the home of hosts who has a questionable background. Running a background check on your host will help keep your family safe by always knowing exactly who you are renting from and give yourself peace of mind when traveling to an unfamiliar city.
Making sure your next vacation rental property will give you less headaches and bring you more joy next time you travel is as easy as following these quick tips. Don't forget to shop around on different rental sites, read reviews, and ensure your host is who they say they are. After checking off these vacation rental essentials you'll be sure to have a fun and relaxing trip!
Author Bio
Samantha Rupp holds a Bachelor of Science in Business Administration and is a contributing editor for 365BusinessTips.com as well as a marketing expert for an online faucet supplier. She has lived in South America, Europe, and North America and has seen 3 world wonders. She currently lives in San Diego, California where she enjoys spending time on the beach, reading up on business industry trends, and traveling. Feel free to connect with her on Instagram and LinkedIn.