Image Source: Pixabay –
For many Americans, holiday travel during November and December are the priciest months of the entire year. There are presents to purchase, plane tickets to book, and dozens of other expenses slamming bank accounts as Christmas Eve approaches.
A recent survey by Experian revealed that Americans spend an average of $930 on holiday travel, and this amount continuously rises each year. In fact, some people spend more on their travel expenses than they do on gifts for friends and family.
Fortunately, there are plenty of holiday travel tips to lower the painful impact of holiday travel prices if you need to book flights and accommodations in the next few weeks. Here are a few helpful tips that will save you a pretty penny.
1. Don't Fly Right Before or After Holiday Dates
 Image Source: Pexels
Experts have estimated that December 22 (the Friday before Christmas) and January 2 (the day after New Year's) will be two of the busiest flying days of the year. That means you'll pay quite a bit more to snag a seat on either of these dates. Instead, plan on flying out early or late to avoid bustling airports and jacked-up prices.
If you need some Christmas travel tips, consider boarding a plane on December 20 or 21. When flying back after New Year's Eve celebrations, book a ticket on a flight a few days after the festivities have died down. You could save hundreds of dollars by simply taking an extra day or two of PTO.
 2. Apply for a New Credit Card Before Booking Everything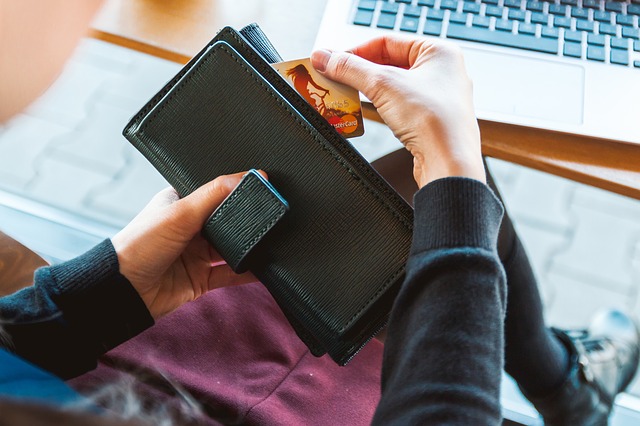 Regardless of how budget-savvy you may be, traveling during the holidays is going to take a toll on your bank account. Why not counter that expense by applying for a credit card with a substantial reward incentive? For instance, if you apply for the Barclaycard Arrival Plus World Elite Mastercard right now, you could get 70,000 bonus miles just for spending $5,000 in the first three months. You're essentially receiving $700 towards future travel expenses just for buying Christmas gifts, flights, and accommodations with the card now.
Some of the other top travel cards with reward miles include the Capital One Venture Rewards Credit Card, the Chase Sapphire Preferred Card, and the Wells Fargo Propel American Express Card. Do some research to see which one offers the best incentives for you.
3. Travel Light (If You Can)
Image Source: Pexels
That budget airline flight might look affordable, but if you need to bring two checked bags with you, your flight's price can more than double due to baggage fees. Although it's often difficult to travel light when the weather is cold and gifts are in tow, it's a smart idea to use a small suitcase when flying near the holidays. This will ensure you avoid extra baggage fees and keep prices as low as possible.
 4. Hunt Around for the Best Price on Any Purchase
 Image Source: Pexels
Never assume that you've found the best price for flights after only looking at one website. Instead, use tools like Skyscanner and Kayak to double-check prices with other airlines and hotels. You might surprise yourself and discover other companies with better discounts. Also, try being flexible with your dates to see which days are the cheapest for travel. If you can save $300 by flying out one day early, is it worth it?
5. Avoid Spending Your Money Inside the Airport
Image Source: Pexels
Weather delays and long layovers are common during winter travel, but don't let these setbacks gobble up your cash. Most airport restaurants and stores have inflated prices, so you don't want to spend much money on food while traveling. Try to pack snacks and plan on eating after you arrive at your final destination, especially if you're traveling with kids who get cranky when they're hungry.
6. Don't Leave Your Car at the Airport
Airport parking fees are almost always steep, but they often climb even higher during holiday travel season. Instead of paying $100 to leave your vehicle outside the gate, have a friend drop you off or hire a ride service. Either way, you'll save quite a bit of money. There are also usually public transportation options, and although they might not be the most enjoyable or efficient, they're cheap.
7. Make Sure That Flying Truly Is the Best Transportation Option
Image Source: Pexels
When it comes to travel, most people assume that traveling by plane is the best way to reach their final destination. However, you may find that driving or taking a train can actually be a more cost-effective option, especially at this busy time of year. Do some research beforehand so that you don't rush headlong into a plane ticket that costs you an arm and a leg.
Bonus Tip: Don't forget that stocks and bonds can help you make money while you travel. The key is to be smart, however and invest in stocks that have a solid foundation and a history of solid gains. Look for the right blue chip stock investments and watch your money grow while sitting on the beach or hitting on the slopes!
To Sum It All Up
Holiday travel doesn't have to be the huge expense most people believe it is. By doing research, thinking ahead, and traveling on specific dates, you can save big bucks. Christmas and New Year's Eve will be here before you know it, so start making plans now to alleviate the stress of holiday expenses. You'll pat yourself on the back when it comes time to check your budget in the new year.