Dubai is known as the jewel of the Middle East. Another thing that it's known for? The Dubai heat.
However, despite the hot and humid weather that envelopes the thriving metropolitan, guests from around the globe still flock to the City of Gold.
Aside from towering skyscrapers, bustling souks, and undulating dunes, Dubai also has an amazing selection of indoor destinations. People can cool off and enjoy themselves inside air-conditioned attractions such as an indoor tropical rainforest, sprawling shopping centers, and other record-breaking architectural masterpieces.
The Coolest Place to Be
The Dubai heat has never stopped the city from growing into the booming hub it is today. In fact, it might be one of the reasons that spurred the people of this cosmopolitan jewel to create and innovate. Today, Dubai is one of the world's most prosperous cities.
It is no wonder that world wanderers choose Dubai as one of their favored destinations. It doesn't matter if you're traveling alone, with a loved one, with friends, on business, or the whole family. Dubai is a place that will surely have something to offer anybody and everybody.
Aside from walking around and marveling at the many famous attractions in and around the city, there are also plenty of things to do indoors. Get a respite from the heat with dining, shopping, and entertainment options that all enjoy a refreshing supply of air conditioning.
Here are just some of the top indoor activities you can engage in while escaping the Dubai heat:
1. Learn and Enjoy Some of the World's Best Museums
Dubai is home to some of the world's most fascinating museums. From cultural museums, historic houses, modern culture, and a lot more, you are sure to find something that will expand your mind.
Aside from the many quirky galleries and all the Dubai museum art and exhibits, one of the most enthralling 'infotainment' spaces you can visit is an indoor biological and zoological museum. Here, you can take a step into a world of wonders where you will be surrounded by over 3,000 plants and animals that thrive in a manmade tropical rainforest.
Experience an immersive expedition into a place where a diverse ecosystem is on display. Learn more about the flora and fauna and enhance your knowledge on how to better appreciate and preserve one of the world's oldest bio networks.
You will be filled with awe as you behold creatures of the air and the swimming species in the rainforest aquatic environment.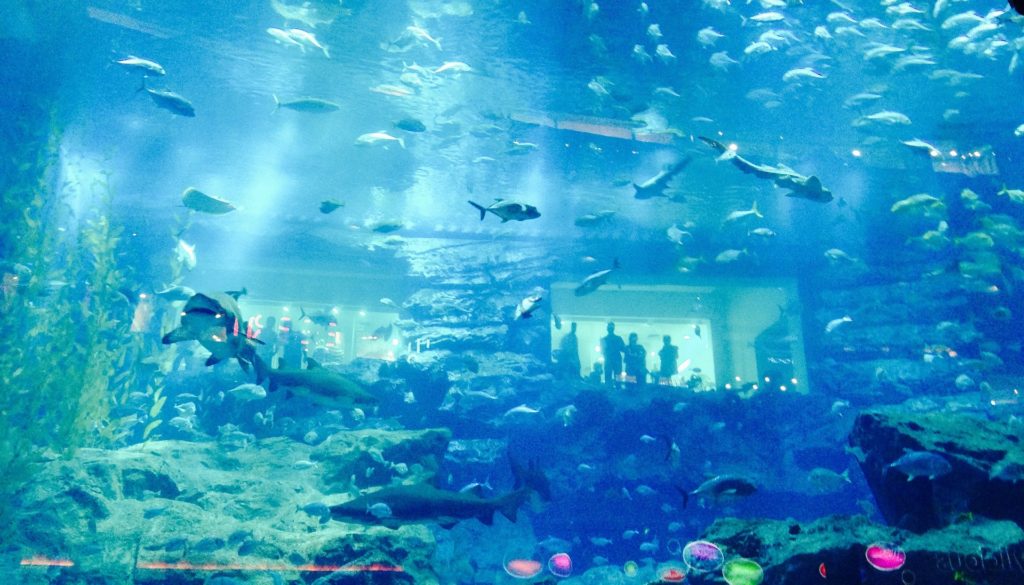 Biologists and other plant and animal experts will also be on hand to guide you through various levels of the Dubai aquarium and "tree of life" to make your tour as informational and entertaining as possible. 
2. Shop til You Drop
Dubai is also considered a fashion mecca. With some of the top fashion designers and fashion mavens holding court in this fair city, it is expected the shopping scene will be as fabulous as can be.
Expansive malls and unique boutiques abound in Dubai. Cure your fashion fever with hours and hours scouring through racks of clothes, footwear, bags, jewelry, and other fashionable items. Multi-level malls, upscale retail runways, and sensational souks will surely make every shopaholic's heartbeat with excitement.
From eclectic local finds to internationally-known brands, you can surely find whatever trinket or treasure you want. Whether you need items to give your friends, family, or loved ones or simply want to reward yourself with baubles and gewgaws, the Dubai mall shops are sure to have something to offer.
If shopping is the main focus of your trip, be sure to look into the numerous options within the Dubai mall hotel.
3. Rest and Relax
When the hours of shopping and sightseeing take their toll, fret not as you can still savor the many comforts that Dubai has to offer.
You can still have a good time by trying a distinctive boutique cinema experience. Rest your weary body in one of the Italian hand-stitched leather seats, choose from the in-house gourmet menu, and sit back to watch the latest blockbusters. The state-of-the-art audio-visual technology is a treat for your eyes and ears as you view your favored flick.
If hunger strikes, there are plenty of Dubai mall restaurants to grab a bite. Serving cuisines from around the globe, every palate can satisfy its cravings for flavorful fare and refreshing beverages. Whether it's a chic café, a romantic restaurant, or even an enclosed river cruise, there is surely something that will tickle your taste buds.
You can also choose to pamper yourself from head to toe with the assortment of salons and spas in the area. From refreshing facials to rejuvenating full-body massages, each one is an absolute treat. Ladies can get beauty makeovers, hair treatments, and artsy nail sessions. Gentlemen can also reward themselves with grooming services specifically designed to cater to a man's particular needs and tastes.
The Magic Within
While there are many sights and scenes to behold in the magnificent city of Dubai, there is also a captivating charm within the city's many nooks and crannies. The lure of cooler temperatures heightens the charm of indoor spaces and makes them a haven for those who wish to escape the Dubai heat.
As you walk the world, remember to explore the ins and outs of the places that you visit. It is then that you will see beyond the shimmering surface and the jewel that resides within.