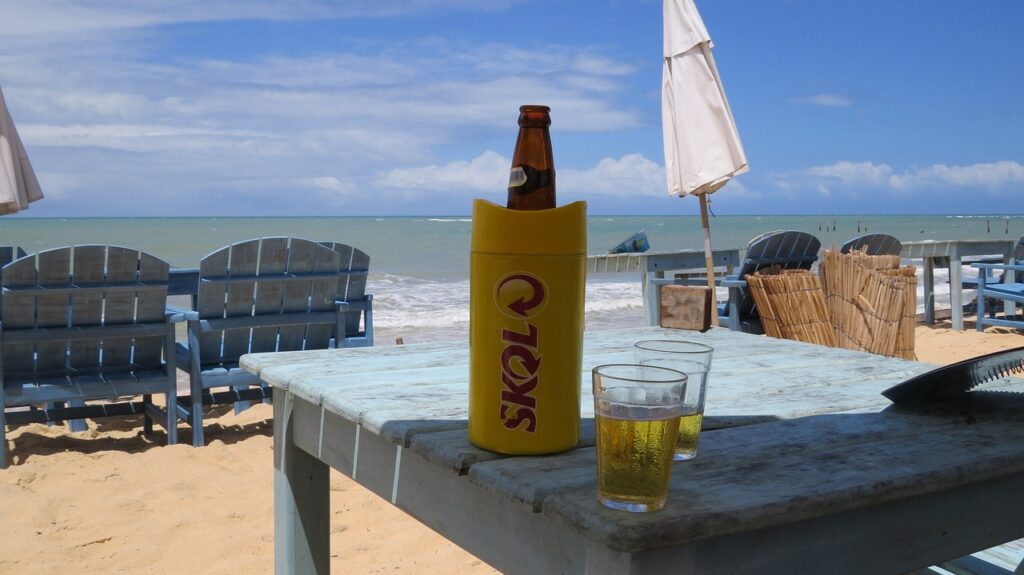 When the sun is out and the sand is warm, beer tastes better. Period. End of story. But what makes a good beach beer? Beach beers are those that go well with sun, sand, and surf. They should be light and refreshing, with a low ABV (alcohol by volume) for easy drinking in warm weather. They should also be flavorful enough that you don't need to drink more than one or two at a time. If you're looking for something stronger and heavier, tequila cocktails can be perfect for summer too.
When it comes to choosing the best beach beers, don't be fooled by what others say that beer is too heavy to drink at the beach, since that is far from the truth. The following list includes seven delicious beach beers that go well with summer.
1. Champagne Velvet
Pilsners are one of the most underappreciated styles of beer in America – which is why this one tops our list of the best beach beers.
This is a shame because they're light, easy to drink, and refreshing. Champagne Velvet is a great example of this style — it's full of flavor that is crisp and floral but not too heavy or filling. Made with corn malt and Bohemian lager, the result is a crisp, refreshing brew that tastes like a glass of champagne with just enough bitterness to keep you interested without being overpowering.
2. Elm City Lager
If you're looking for something light and refreshing that goes well with sunshine on your face, Elm City Lager is the way to go. This German-style pilsner has a clean taste without any harsh bitterness. It's great for those who want something easy to drink – without sacrificing flavor. The beer itself is crisp and light, but it still offers up some complexity with notes of light honey, citrus, and earth.
3. Firestone Walker Rosalie
The only thing better than drinking a beer at the beach is drinking a beer that tastes like rosé.
This summer seasonal from Firestone Walker is made with Chardonnay wine grapes and hibiscus flowers, which add floral notes to the beer. Strawberry and watermelon notes come through on the palate, but it's not nearly as sweet as you might expect. If you haven't tried the Firestone Walker Rosalie – definitely add it to your list of the best beach beers, trust us!
4. Fresh Pressed
This medium-bodied wheat ale is perfect for the beach because it's light and fruity — just like the ocean air. We're talking about guava and pineapple flavors here, which give it a tropical feel, making it one of the best summer beach beers out there. And then there's mango, which adds just enough sweetness to make it taste like summer in a bottle.
5. Narragansett Del's Shandy
When the sun is shining and you're soaking up the rays on a lazy summer day, there's nothing better than a beer that can keep up with you. While a regular lager might be too heavy for the occasion, this iconic combo of crushable lager and lemon is light and refreshing, while still packing enough of a punch to keep you cool all day long.
6. Rocket's Red Glare
You'll love its light body, so you can enjoy it on the beach without feeling weighed down. It's got a tart aftertaste — just like the best popsicles do but with the acidity of a sour beer. The lemon and lactose are what make it so refreshingly crisp, while the blue raspberry adds a touch of sweetness that keeps you coming back for more.
7. Samuel Adams Summer Ale
This is a beer that will make you want to ditch your flip-flops and run straight into the ocean.
The aroma is dominated by lemons and oranges, with some limes thrown in for good measure. It's light and citrusy, with a subtle spice from grains of paradise, so you'll feel like you're sipping something much more sophisticated than your average beach beer.
Cheers!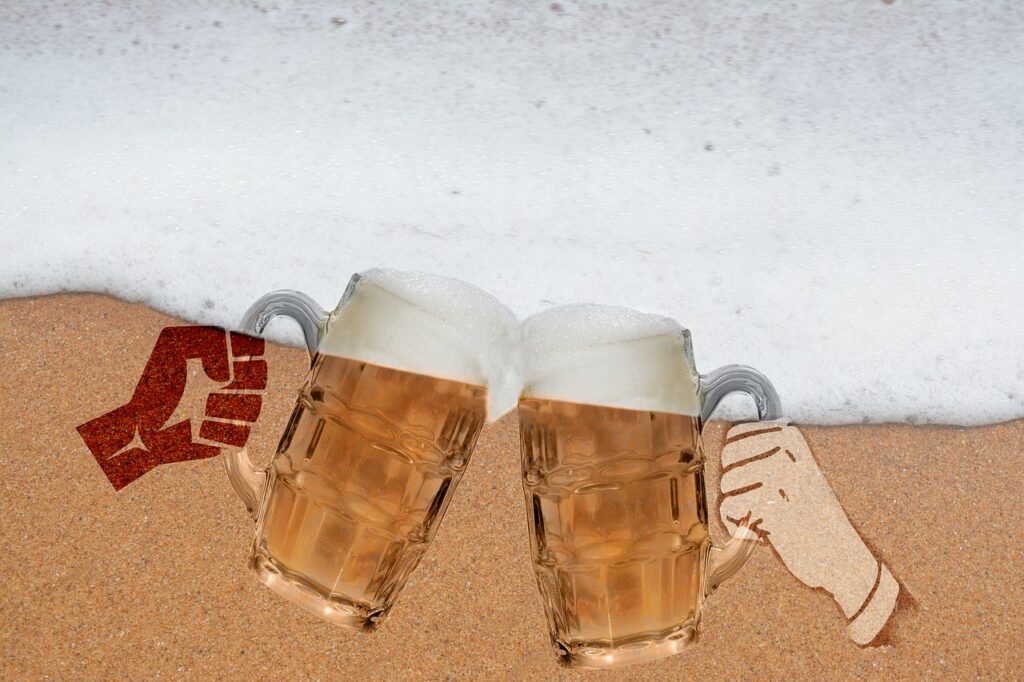 There's always fun to be had on the beach, and with beer involved, even more so.
Even if you aren't a big drinker, there's something magical about sitting on the beach with a cooler full of the best beach beers. There's just something quintessentially summer about cracking open a cold beer and getting a taste of heaven in your mouth.
While this list has some really great beach beers, there are many more out there. If you're a big fan of Oktoberfest, then you know the world of beer is very diverse. This is only the starting point for your exploration of this delicious niche. Now the question is, which beer are you going to try first?