Singapore is known for many things. Renowned in Southeast Asia for multiculturalism, the Singapore food options you will find here are among the best cuisine in the world!
Singapore is a bustling city-state located in Southeast Asia renowned for its clean and green streets and multiculturalism. As travelers, you may have known Singapore for having one of the world's best airports. You may have planned to visit Universal Studios Singapore, or even added the world's largest infinity pool to your bucket list.
However, nothing completes a vacation more than having tried the famous foods in that country you're heading to.
Here, we bring you some of the must-try food that not many people know about. Some of these make the perfect snack for tea time, while others top off as a scrumptious dinner after a long day exploring the city.
You have not truly visited Singapore if you've never tried any of these!
1. Kaya Toast and Eggs
Kaya is a traditional local jam, made up of coconut milk, eggs and sugar. It is usually blended with pandan leaves to give an aromatic taste. The jam is then spread onto slices of toast bread, with a mix of butter.
A popular breakfast option for many Singapore food connoisseurs, the breakfast trifecta consists of kaya toast, half-boiled eggs, and a cup of traditional coffee or tea. The difference in coffee you find in most Western coffee joints lies in the way the beans have been roasted. The traditional coffee in Singapore is Nanyang style – where beans are roasted with palm oil or sugar to produce a fragrant aroma.
Experience it for yourself!
On most mornings you would find pleasant bustling in the two most popular (and conveniently located) joints – Ya Kun Kaya Toast and Toastbox. For a more homely experience, you may want to visit Heap Seng Leong, a local joint run by an elderly couple.
2. Fried Carrot Cake
At first glance, the name itself might sound deceptively weird. Do not be confused, as non-Singaporeans (or non-Asians), you might be mistaken for its sweet dessert counterpart.
The fried carrot cake here is not anything sweet, but instead a savory plate of fried turnip cake. It is usually stir-fried with eggs, and topped with garnishing.
Generally, there are 2 kinds, black or white, which meant one was fried with dark soya sauce, and one isn't. In Singapore, most would enjoy this dish for breakfast, but it really could be eaten anytime.
Consider taking a trip down to Maxwell Food Centre (near the popular tourist attraction, Chinatown), or head down to Chomp Chomp Food Centre. There are plenty of local delicacies here, and you should really keep an empty tummy before heading down.
Bonus tip: fried carrot cake goes well with a glass of cold soybean milk!
3. Chwee Kueh
Now this Singapore dish is a difficult name to pronounce – especially as non-Asians. There are many alternate forms of spelling (chwee kuey, shui kueh etc.) because it is a Teochew dialect word. Which literally translates to "water rice cake".
These cakes are actually steamed rice cakes, often topped with chili, sesame seasoning and preserved radish gratings. The unique blend of spiciness and salty taste gives a burst of flavors.
Check out the quaint neighborhood of Tiong Bahru, and drop by the nearby Tiong Bahru Food Centre. Or, if you are exploring the Eastern side of Singapore, you could visit Bedok Interchange Hawker Centre, home to a Michelin Bib Gourmand winner – Bedok Chwee Kueh.

4. Charcoal Fish Head Steamboat
Fish head steamboat is another Singapore dish loved by locals. In Asian cuisines, a steamboat refers to a hotpot, where different kinds of meats and vegetables are simmered slowly to cook. What is different from other steamboats here is the fact that it is heated up using charcoal instead of electricity or gasoline flames.
Do not be deceived by the name of this Singapore dish. As "meatless" as it may sound, they don't serve the entire head in the pot. Instead, the fleshy parts of the fish's head are being cubed out. Because of the proximity to their gills, the meat from these parts are extremely tender.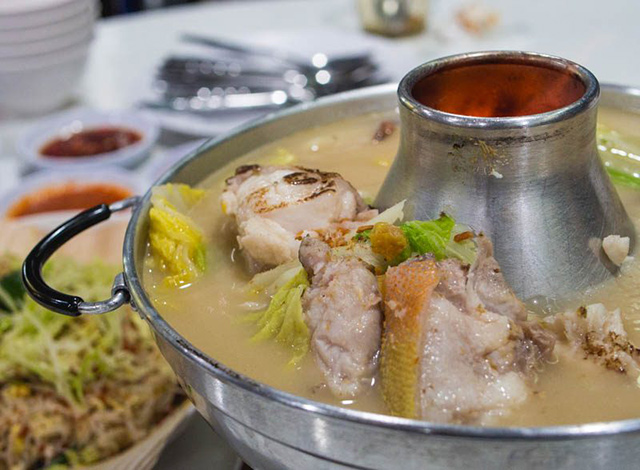 The most famous name here is Nan Hwa Chong, which occupies an entire stretch of 2-story shophouses. Another popular Singapore food choice is Xin Yuan Ji, which is always a full-house but definitely worth the wait. Both these shops are near the city center, perfect for a meal after shopping!
5. Sambal Stingray
If you are a seafood lover, you must absolutely try out this Singapore dish. Sambal is a chili paste made from a mixture of different chili peppers and other condiments like onions and garlic.
Nothing pairs up with sambal as perfectly as a platter of grilled stingray. Because of the way it is grilled over long periods of time, the entire fin can be eaten with its cartilage. If you like grilled seafood, stalls that sell stingray would most likely have a variety of other kinds of fish and shellfish.
Bonus tip: order a large cup of sugar cane juice to quench your thirst afterwards!
Seafood stalls generally open during dinner time, if you are near the city center, Lau Pa Sat Food Court would be a perfect choice for a seafood feast. It is an area with a rich heritage, and lots of good food. Otherwise, if you are near the shopping districts, Newton Food Centre would be a place to satisfy your tummy.
6. Chili Crab
Again, for all seafood lovers, Singapore's signature chili crab is an all-time favorite. When we speak of chili crab, only one brand comes to mind – JUMBO Seafood.
A one-kilogram mud crab costs around USD70 and will feed a pair of hungry folks. It may be a little pricey but what differentiates this restaurant from the rest is really the sauce. Pepper lovers may also try their award-winning black pepper crab!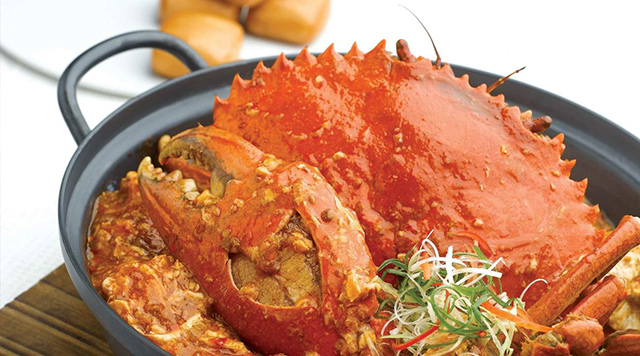 The recommended branch to go to is the one at Clarke Quay. Nothing beats a pint of ice cold beer after dinner. Head down to the rows of pubs that line the riverside after your meal, and enjoy the nightlife that Singapore has to offer.
7. Bak Kwa
Bak Kwa is a Hokkien dialect term that translates to the words "dried meat". It is very similar to preserved meat jerky, except that bak kwa is only made from pork, usually charcoal grilled and savorier.
It is traditionally bought as gifts, or presented to guests, during Chinese New Year celebrations. Because of the compact nature of these square slices of dried meat, it also makes one of the best souvenir items to bring home.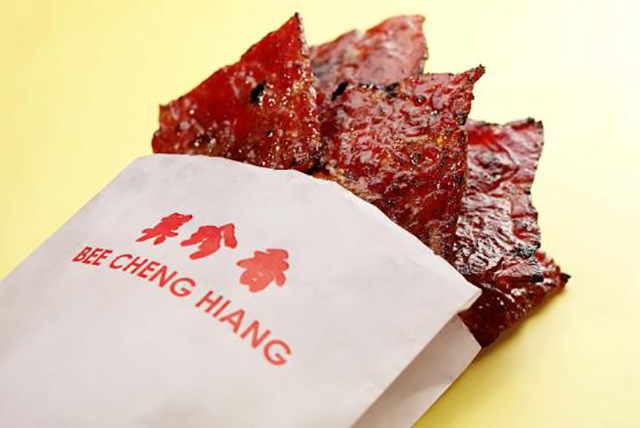 The easiest place to find bak kwa would be in Chinatown.
The most sought-after brand would be Lim Chee Guan. Ask any local in Chinatown, and they'd be able to point you in the right direction. Another brand that is scattered conveniently throughout the island is Bee Cheng Hiang. You can even find one at the airport!
Bonus tip – If you don't want to purchase half a kilogram of pork, you can buy a single slice to taste it on the spot! Bee Cheng Hiang sells single pieces for about $2 USD a slice.
Conclusion
There is really no way anyone would go hungry with all the Singapore food options.
All of these delicacies are available within walking distance from the subway stations. In conclusion, a visit to the tiny tropical island will never be complete without good food!
Hopefully, we've whetted your appetite just by reading till this point. Enjoy your stay on this tiny red dot called Singapore.