Festival season is almost upon us. As the music world finally begins to return to normal after the pandemic, jam band festivals will be back in full force.
Coachella will likely be filling up your Instagram feed come April. It's always a nice reminder that the festy scene is booming in the United States. There's no denying that the giant crowds, high costs, and widely diverse music selections of Coachella, Bonnaroo, and Lollapalooza can get extremely overwhelming. Moreover, it's nearly impossible to catch ALL the musical acts you want to see at the bigger fests.
If you want a weekend in the summer to groove out to funky jam music, there are plenty of music festivals in 2020 to get your fix – most of which won't break your bank account.
Here are three to consider.
1. Summer Camp
Summer Camp Music Festival, based in Chillicothe, Illinois, is at an interesting point in its 20+ year existence. While it has always been clear that the organizers want it to remain a low-key event with a jam-focused crowd, the perception seems to be teetering on the middle ground between a small-to-medium size festival and a big, mainstream one. Year-after-year, they are able to lock down bigger acts and draw more diverse crowds. In recent years, Summer Camp has brought in household names from the jam and EDM scene including the likes of Trey Anastasio, Steve Miller, Bassnectar, Pretty Lights, and more. Each year, patrons are treated to three days of Umphrey's McGee and Moe.
Perhaps the best part about Summer Camp is you don't camp with your cars. This means there is no separation between the camping areas and the actual festival grounds. You only go through security at the very beginning and don't have to conceal anything from security when you go from your campground to a show. Basically, once you're inside, freedom reigns. Furthermore, because the festival isn't congested with parked cars, you are never more than a 10-minute walk from any stage. Its host, Three Sisters Park, seems to have been created for a music festival.
Summer Camp is being held this year from May 26th – 28th. If you get the pre-party pass, it starts on May 25th. The VIP upgrade is affordable and highly recommended for this one. This gets you a ticket to the Thursday night pre-party, access to showers, nicer bathrooms, a number of shows at the VIP tent, and a show in the famous Red Barn. N If you like festivals that are small, but not too small, Summer Camp is the fest for you.
Click here for more information.
2. High Sierra
It's no secret that music festivals have grown like crazy in the past couple of decades. As a result, many have become highly commercialized events with all sorts of brand messaging to throw off the vibe. High Sierra Music Festival, in Quincy, California, is one of the few that does its best to resist the corporate takeover.
As a veteran camping music festival in California that dates back to 1991, the tight-knit community feel of High Sierra is felt by everyone involved; the organizers, staff, and patrons. The size of this festival is very manageable and unintimidating. While the scramble to get a good camping spot can be a bit hectic (like any other music festival) you are never too far from any stage.
High Sierra frequently welcomes bands like The String Cheese Incident, Lotus, STS9, Umphrey's McGee, and more. When it comes to jam music, High Sierra is one of the best festivals on the west side of the Mississippi.
The VIP passes get a little pricey. At the basic level, this pass gets you early entrance to get a good campground, access to a number of exclusive areas to see the stages, late shows, drink tickets, and a handful of festival memorabilia.
This 4-day festival normally takes place around July 4th weekend. This year, the dates are June 29- July 2nd. While you will definitely get some hot summer days, the nights exemplify the perfect Northern California weather.
Keep in mind, the lineup still has more to announce – so stay tuned!
Click here for more information.
3. Domefest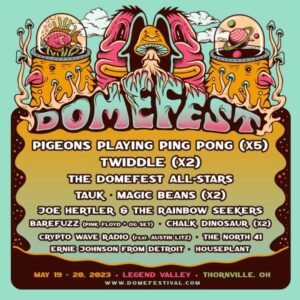 If you like the smaller music festivals and multiple sets from a few of the top names in the jam scene, Domefest should definitely be on your radar. Making its long-awaited return in the late 2010s, Domefest is a three-day event taking place in Thornville, OH.
If you love jam band festivals, you're probably familiar with Pigeons Playing Ping Pong, Twiddle, and Tauk. Prepare for a heavy dose of these three acts – and a bunch of other ones – in the 2023 lineup.
The vibes of this festival are friendly and inviting, with a shared appreciation for heady jams. Watching some of your favorite acts with the beautiful Midwestern backdrop is a great way to kick off the festival season!
Domefest takes place May 19 – 20. If the forecast is looking hot, you might be wise to get the High Flyer upgrade for wooded camping, and many other amenities. This event is family-friendly.
Click here for more information.
What Are You Waiting For?!?
Whether you are missing Coachella this year, or want your summer music festival to be a bit more jam niche, these three fests should definitely be on your radar. Perhaps the best thing about these three is they always bring in a good mix of veteran jam bands and new names on the scene.
Now, these are certainly not the only jam music festivals taking place this summer. If there is another one you feel should be mentioned, please fill us in in the comments!