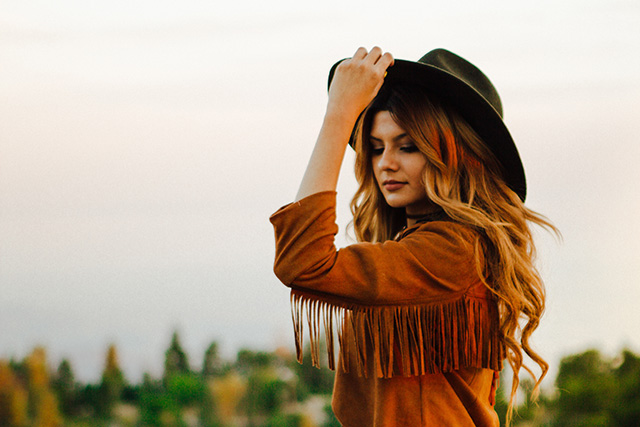 Country music festivals attract a unique crowd. Right now, your Instagram and Twitter feeds are probably littered with filtered pictures of hippies in sunglasses at big music events like Coachella. After all, it's festival season, so it only seems right that every other girl is wearing flowers in her hair and screaming "yas, queen" as Beyoncé takes the stage. We both love and hate this time of year, right?
However, not every spring and summer music festival is peppered with pop, rap, and indie artists. Throughout the states, people from far and wide will flock to a handful of stages to celebrate a quintessential part of Southern U.S. culture: country music. I'm talking boot-stomping, hat-raising, beer-sipping Western tunes.
If you're ready to slip into some leather cowboy boots and throw back a drink or two while crooning about broken hearts and dirt roads, here are the top seven country music festivals you need to book tickets to ASAP.
Nashville has long been recognized as the true heart and birthplace of country music, so it only makes sense to start our list here. From June 7 to June 10, thousands of country music fans will crowd the Tennessee Nissan Stadium in hopes of glimpsing stars like heart-throb Luke Bryan and stunning singer Carrie Underwood. The music doesn't stop once you leave the stadium, though; there will be plenty of free concerts up and down Broadway. When Nashville celebrates country music, the whole city goes all out, so come ready for three days packed with guitars, boots, and cowboy hats. Oh, and beer. Lots of beer.

 
From July 19 to July 22, this legendary festival will host a variety of new and old country music stars. Roughly 100,000 people head to Morristown each year to jam out with performers like Travis Tritt and Charlie Daniels Band. This Jamboree in the Hills festival is so popular that each morning, before the performers hit the stage, there's a literal "redneck run" to snag highly-desired spots inside the venue. If you decide to take part in the mad dash, prepare for things to get muddy and more than a little bit chaotic. It's all a part of the once-in-a-lifetime experience, right?
As if we needed another reason to visit the beautiful Myrtle Beach area in the summer, this country music fest is one of the best in the country. Picture three solid days (from June 7 to June 10) of more than 30 popular country music artists giving it their all on stage. Pretty much everyone will be there, from classics like Zac Brown Band to newer faces like Kane Brown. Although this event has only been around since 2015, it's quickly establishing itself as one of the most memorable country concerts you can attend.
If you really want to make some memories, head to Grand Junction from June 14 to June 17 for a festival that's surrounded by breathtaking red rock landscape. The Country Jam Colorado event has been going on for three decades, and with big names like Florida Georgia Line and Brett Eldredge hitting the stage in 2018, it doesn't look like it'll die down anytime soon. The best (or at least the most unique) way to experience the festival? Rent a campsite for the entire crew.
5. WE Fest – in Detroit Lakes, Minnesota
Later this summer, from August 2 to August 4, you can attend the largest country music festival in the entire nation. More than 20 artists will be performing, including Jason Aldean and Florida Georgia Line. Get a group of friends together and rent a campsite as you share a love of country music with thousands of others. The fest has even created separate campgrounds for different kinds of lifestyles, so whether you want to party all night or grab some zzz's, there's a site that works for your needs.
California is the land of music festivals, so it seems right to include a country event in the golden state. The Country Summer Music Festival will take place from June 15 to June 17 includes dozens of exciting performers, including Little Big Town, Florida Georgia Line, Toby Keith, and more. It's been voted the best music festival in Sonoma and offers both tent and RV camping sites. Grab your cutoff shorts and soak in a little California sunshine while you let your inner Southern soul roam free.
You might not think of Illinois as a country music home place, but the LakeShake can certainly change your mind. Blake Shelton, Dierks Bentley, and many others will perform from June 22 to June 24 at Huntington Bank Pavilion at Northerly Island. One look at photos from last year's LakeShake will have you packing your boots and booking your flight to Chicago pronto. If you've got little ones, feel free to bring them along since the event is open to all ages, and while you're there, take a day or two to explore the surrounding city.
Do It!
No matter which of these country concerts you decide to attend, make sure you bring three things: your boots, your love for music, and your camera because you'll want to make these memories last for a lifetime.