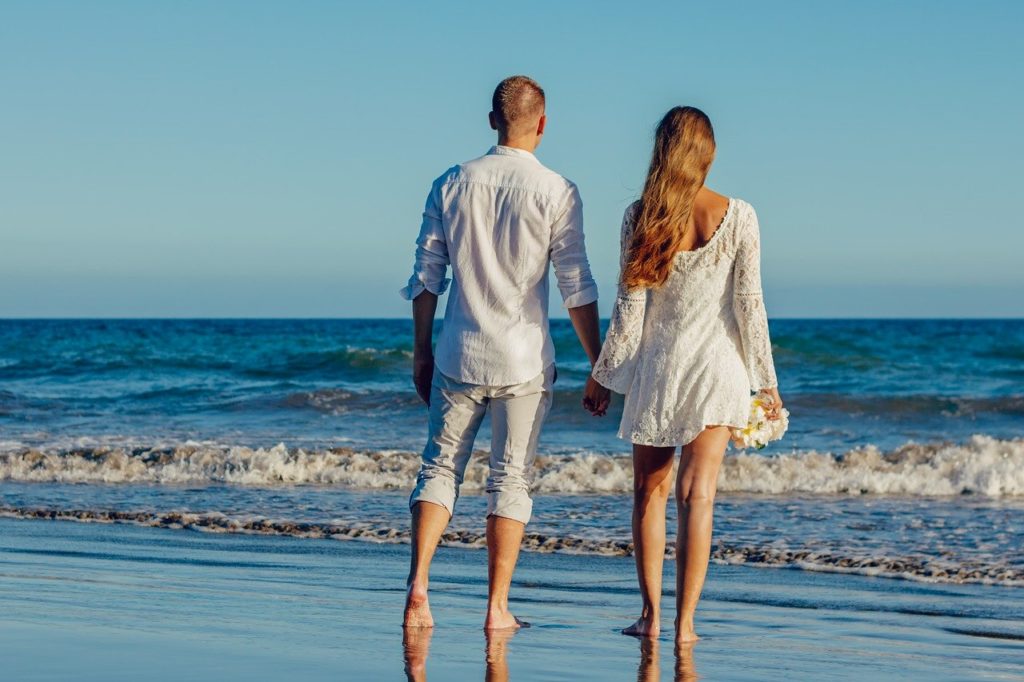 A beach destination wedding is a dream for many people.
The pressure for precision on your big day is second to none. From the dress to the flowers and guest lists, your hands are undoubtedly full. Your wedding shouldn't come with caveats, and there may be a solution if you're looking to celebrate, sans pressure. Elopement is the perfect way to have all eyes where they should be, on you. No flower girl fiascos, or cousins who drank just one champagne too many.
Imagine an intimate beach setting, barefoot on the sand, with the salty air against your cheek. Sound like the perfect day? It will be. With a little bit of planning and a lot a bit of dreaming, you'll have the perfect beach elopement planned and at the ready when the time is right.
1. Create an Announcement
Even if you're eloping, plan to announce the nuptials to friends and family. It's time to share that yes, the rumors were true.
You can choose to send out the cards before or after the ceremony, but make sure you let your inner circle know about your celebration. Get casual. Plan a fun photo shoot on the coast of your big day with a simple sign, then post it to social media to let your loved ones know the good news.
2. Get Legal
Unfortunately, there are still boxes that need ticking for a legitimate beach destination wedding. Head to the courthouse and make sure you're registered with the proper paperwork. Lastly, get the marriage license in order so it's official at the end of the trip.
Don't forget to recruit a friend, family member, or total stranger to officiate the wedding. Bonus points for a little humor in the ceremony to keep it as light as a bird.
3. Make a Timeline
Even elopements need to have some structure to them. Decide on a schedule so everything goes according to plan, then consider things like hair, makeup, and photographs. Consider adding extra time to really celebrate. You'll want to toast to your big day, and maybe even still enjoy the first dance.
Be sure to add time the little things like water activities or a couple's massage — you are on a near-vacation, after all.
4. Budget for the Big Day
Bad budgeting can quickly be the wrench stopping the gears of your beach destination wedding.
Think about the attire, legal costs, announcements, photographers, decorations, meals, and any travel expenses that you'll incur to get to and from your destination.
Even though the price tag on surprise nuptials is much lower than a structured ceremony, you'll still want to make sure you have the funds for everything that's important to you and your significant other — yes, that includes the honeymoon! Although, you could likely save even more if you extend the destination elopement into a honeymoon of its own.
5. The Devil's in the Details
Hopefully, you won't have a monster-in-law to please with an elopement. But that doesn't mean you won't want to look and feel beautiful while the sun sets over the water. Decide the formality of your ceremony and reception. Whether it's beach formal, semi-formal, or casual, you'll want to make sure you have a color palette picked out. Skip the dress shoes and opt for bare feet.
Choose a dress with breathable fabric so you're not feeling the humidity while you're on the alter. Men should follow suit and wear breathable fabrics for both the top and pants (or shorts)!
[post image: wardrobe ideas]
Beyond your dress, you'll want to make sure your guests are comfortable and the vibe is whimsical. By creating a dedicated gathering space for your guests, they'll be able to enjoy the day to its fullest. Consider using natural elements around your tables—think driftwood and seashells as centerpieces. Make sure you don't disturb the natural elements of nature when selecting your perfect décor to compliment your beach destination wedding.
[post image: reception ideas]
Over to You
There are so many great alternatives to the traditional ceremony. Considering recent travel bans and social distancing, it's the best time to change your wedding day from a grandeur church ceremony into a beautiful and intimate beach gathering.
Whether it's you and your loved one alone at sunset saying your vows, or a group of 10 of your closest friends and family, a beach elopement is a perfect way to celebrate your love in style, without the stress.