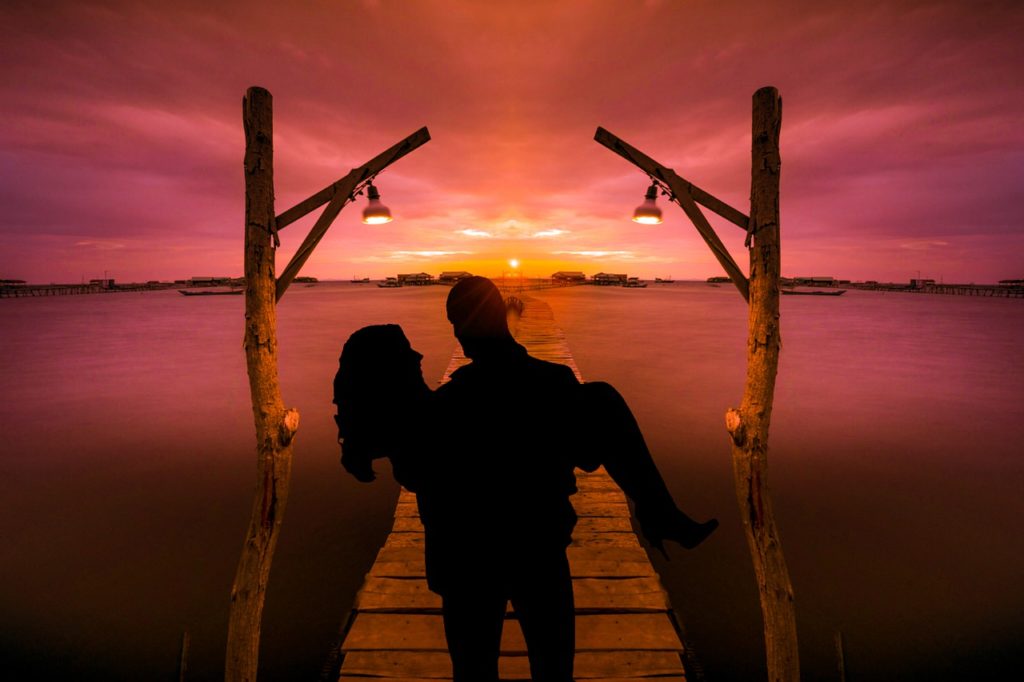 In the midst of planning a wedding, the honeymoon can easily get swept away in all of the madness. Downtime to celebrate you and your new spouse is just the kind of vacation you'll need! Many prefer laying out on a tropical beach sipping pina coladas, some might like a big city experience or African Safari, while others elect for a more outside-the-box-idea. The best honeymoon destination is unique to every couple.
If you're considering planning a destination honeymoon but don't know where to start, consult the list below for some inspiration.
1. Determine Your Vacation Style
Think about the moments after you say "I do" and imagine what kind of experience you want to have with your partner. Are you hoping to relax near the beach or explore an urban getaway?
The first steps in finding the best honeymoon destination are to figure out what type of experience you are looking for, what activities you want to do, and what you want to get out of it. Since different locations provide different atmospheres, this step is crucial in determining the activities and overall goals of your honeymoon.
2. Set Your Budget
International travel may be at the top of your list. But after the huge expense of hosting a wedding, ask yourselves if it makes sense to pursue that kind of trip.
Make sure to budget right in order to appeal to both you and your partners' needs, while not breaking the bank. This will also narrow down locations and give you a better idea of what kind of lodging you can stay in and what kind of activities you can do. 
What would the day-to-day costs of a lux Paris honeymoon be?
Would they be more reasonable on a Bora Bora honeymoon?
Be sure to take ALL costs into account before you book travel plans.
Plane tickets
Lodging
Food/drinks
Activities
Transportation
Souvenirs
Emergencies
These are the basics you'll need to account for. Be realistic here. No one wants to stress about money on their honeymoon (never a good start to a marriage).
3. Select Your Honeymoon Destination
Once you know what kind of destination you envision for your honeymoon and your budget limitations, it's time to start researching.
Here are a few of the best honeymoon destination ideas to spark your travel bug:
Tropical Honeymoon Destinations
If palm trees, private plunge pools, and breathtaking sunsets excite you, booking a trip to a tropical location is the way to go. From Mexico to the Philippines, below are some of the most coveted tropical getaways to explore:
Palawan, Philippines. A honeymoon to the Palawan Island allows for a mixture of relaxation and excitement. Activities include snorkeling under their perfect blue sea, taking boat rides in underground rivers, and romantic nights at a luxury resort.   
Bora Bora. Waking up to a view of crystal-clear water in you and your partner's overwater bungalow is a blissful part of the Bora Bora experience. For the best view, climbing Mount Otemanu also adds a piece of adventure to the tropical paradise. 
Tulum, Mexico. From sightseeing Mayan ruins to relaxing at a zen spa, the natural paradise of Tulum is a great honeymoon destination to consider. The bohemian and tropical touch of the town makes it a perfect spot for young, adventurous couples. Some spots to check out on a Tulum honeymoon are Cenotes Dos Ojos, Gran Cenote, and Playa Paraiso.
Urban Honeymoon Destinations
Going the urban or cosmopolitan route for your honeymoon is a way to experience rich history, architecture, and charming restaurants all at once. Couples that are wanting a sophisticated and up-scale way to celebrate their recent nuptials should consider the following destinations:
Granada, Spain. Known for its palace in Alhambra, the once-Muslim-ruled city of Granada has Arab architectural influences all around the city. There are also several astonishing cathedrals to tour that will allow for some post-ceremony reminiscing. 
Bruges, Belgium. The fairytale-esque city of Bruges is the perfect place for medieval history and architecture lovers. The most common spot to visit in Bruges is the 13th Century Belfry, a 272-foot bell tower that offers astonishing views at its peak. The art and culture of Bruges make it a must-see spot and can be a great honeymoon for you and your partner. 
Chiang Mai, Thailand. In Northern Thailand, the city of Chiang Mai attracts tourists all year round. From visiting historic temples like Phrathat Doi Suthep, to being able to climb up the notorious Bua Tong Waterfall, Chiang Mai is sure to be a unique and unforgettable honeymoon for you and your partner.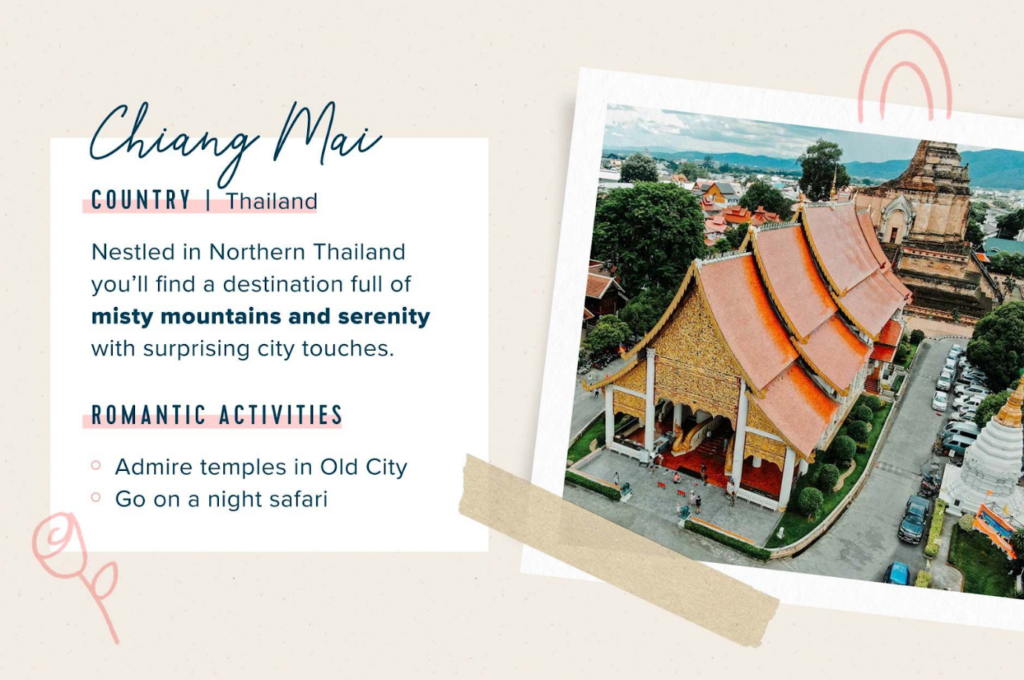 Romantic Honeymoon Destinations
Your honeymoon should be a romantic experience, and choosing the right location can increase the intimacy and love in the air. From North Carolina to Turkey, the places below are great romantic options to think about when finding your best honeymoon destination!
Cappadocia, Turkey. The dreamy hot air balloon rides in Cappadocia, Turkey make this a perfect romantic spot to spend your honeymoon. The "fairy" chimney rock formations located in Monks Valley of the city will make you feel like you're in another world altogether. 
Schwangau, Germany. The city in Germany looks straight out of a cinderella movie, with tall, white castles and a lush landscape. Cap off your fairytale honeymoon at the stunning Neuschwanstein Castle, a 19th-century palace located on top of a hill. 
Asheville, North Carolina. If you want a relaxing and serene spot to celebrate your honeymoon, Asheville is a great spot to go to. The quiet and green-filled city has mountains that can be hiked, tulips in the spring, and waterfalls to observe; making it a great destination for your tranquil vacation. 
4. Plan Your Itinerary
Things should be getting exciting now as you start to pencil in dates for your getaway.
Now it's time to start planning lodging, excursions, restaurants, and sites to see. However, if you're looking to not plan anything and just relax poolside with your partner — more power to you!
Your honeymoon is the first trip you and your partner take as a married couple. Visiting a location that appeals to what you prioritize in a vacation is important, whether that's sight-seeing historic buildings or snorkeling in blue waters.
Get Going!
No matter what location you choose, being able to experience a new place together is what will make the memories of your honeymoon last a lifetime.
Remember, the "best honeymoon destination" is not dependent on the location itself; it all comes down to what you do with the time you're there!