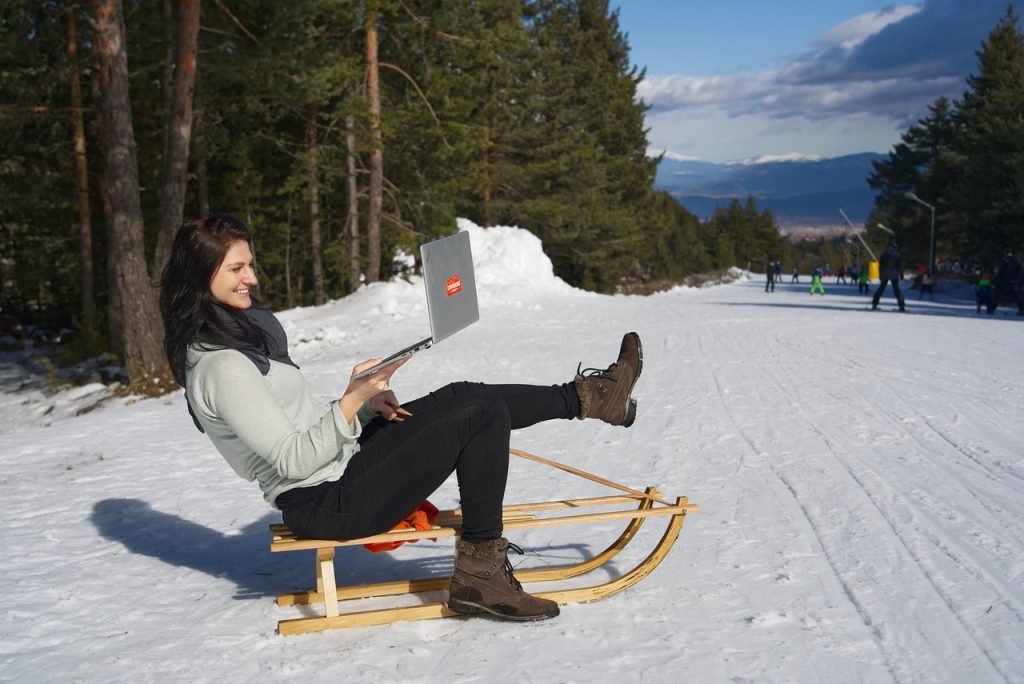 There are many reasons to join the fast-growing digital nomad lifestyle, such as traveling, experiencing new things, and exploring places you've never been. A digital nomad is someone who works online while traveling. These individuals crave the ideal work-life balance and a life of adventure and excitement.
Digital nomads really only need one thing: Wi-Fi. For many, the nomadic lifestyle can be fulfilling and exhilarating. While it may seem like something that's difficult to do, there are tons of success stories of people who have accomplished their dreams of becoming digital nomads and working remotely from new places every week.
How to Become a Digital Nomad
Choosing to become a digital nomad can be just as frightening as it is exciting. There are a number of ways that you can become your own success story, but if you're not sure how to get started, we've put together this guide to help you.
Step 1: Be Passionate About Travel and Work
Many people often dream of becoming digital nomads because they hate their jobs. These are typically the type of people who don't become digital nomads for one reason: digital nomads don't hate their jobs. Digital nomads hate the idea of being forced to work a regular 9-to-5 job that isn't fulfilling.
This extreme need for change ultimately propels individuals with an interest in traveling the world into the nomadic lifestyle. Digital nomads are not lazy, and they enjoy working, but they must find the perfect freedom and work-life balance to be happy. This will motivate them to do whatever they need to succeed. Without this discipline, you won't be able to set yourself up for success. So, step one is to feel passionate about how you make money as a digital nomad. That might require you to take some time to find the perfect opportunity.
Step 2: Prepare for the Digital Nomad Lifestyle
Before quitting your job, make sure that you're capable of living the digital nomad lifestyle. Many of us aren't, and that's okay. Just like anyone else, digital nomads can face burnout and loneliness, so a nomadic lifestyle isn't meant to be seen as a cure-all for your life problems.
To prepare for the nomadic lifestyle, create a side income online that allows you to work whatever hours you want. Many digital nomads prefer passive income like selling information products; however, many are also freelancers. If you have skills that can be done remotely, prove it to yourself first before quitting your job. Start by finding ways to earn income online to prove that you can make enough to become a digital nomad.
Next, you can do a trial run of your nomadic lifestyle. Take some time off work and travel to a new place. Unlike a vacation, force yourself to work during this time to make sure that you're capable of balancing your job duties and your need for fun in the sun.
If you're able to be productive abroad, make enough money to pay your bills, and have few issues doing so, the nomadic lifestyle may be within your reach. Keep in mind that you may have to invest in new equipment, buy a new car that can handle the wear and tear (check out these car-buying tips from Truliant, and figure out how you're going to accommodate meals on the road—all of which are a substantial financial investment.
Step 3: Re-evaluate
Your trial run should have helped you learn whether this digital nomad lifestyle is right for you or let you know that instead of daydreaming about traveling, you really just need to find a new job. If working as a digital nomad made you feel happy, and you want to do it again, then it may be something you're successful at.
It's important to keep in mind that trial runs aren't always accurate representations of what it will be like. After all, you had your job to come back to.
Step 4: Work More
Now that you've decided the nomadic lifestyle is right for you, it's time for you to find full-time income that will pay all of your bills while you're traveling. Many companies may choose to hire remote employees or freelancers for a number of reasons. In fact, many companies have a workforce made up entirely of remote workers. Find these companies by searching job boards so that you can get a job that covers all of your bills. For insight into what employers are looking for so you can prepare for interviews and what expectations you should have in this type of position, check out ShareAble for Hires' remote employees guide for businesses.
If you're having trouble finding your remote dream job, you can also reach out to potential clients on your own. If you're an SEO specialist, you can reach out to marketing companies around the world to ask if they ever hire freelancers or remote workers. Make sure to send your resume and write a memorable introduction email so that you can get hired in no time.
Only after finding enough clients or another job that will cover your expenses should you quit your job and book your plane ticket.
5. Consider Your Responsibilities
Now that you've decided to quit your job and travel the world as a digital nomad, it's time to once again evaluate whether this is right for you. In fact, you should evaluate it every step of the way because it's a big decision. Especially after the pandemic, you should consider if it is safe yet.
Becoming a digital nomad may not be right for you if you have children, pets, or any kind of dependent. You'll be missing out on birthdays, parties, and the lives of your family and friends. If becoming a digital nomad is still something you've decided is worth pursuing after considering all of this, you're on the right track to making your dreams a reality.
6. Plan Your Travel
You don't have to plan where you're going to stay for an entire year, but when you're first starting out the journey of becoming a digital nomad, it's helpful and less stressful to book your plane tickets and hotels months in advance. Not to mention, doing so can save you money. Do some research on the countries you want to travel to and the places you can stay. Make sure to compare different airlines and lodgings to make sure that you're getting the best for your money.
Consider booking hotels that are quiet so that you can get your work done before going out on the town. While you may need a taxi to get to the city, you'll save money by staying outside of it. You'll also allow yourself enough time to get all of your work done so that you can continue to afford your lifestyle. 
Over to You
Becoming a digital nomad is easy if it's something you truly want to do, but be realistic about the fact that it's not right for everybody. Make sure that you weigh both the pros and cons before you make this life-changing decision. If you've come to the realization that working on the road is the perfect solution for you, take the time to plan things out and make sure you're in the right mindset to make the change. We wish you the best of luck in your pursuit of professional happiness.