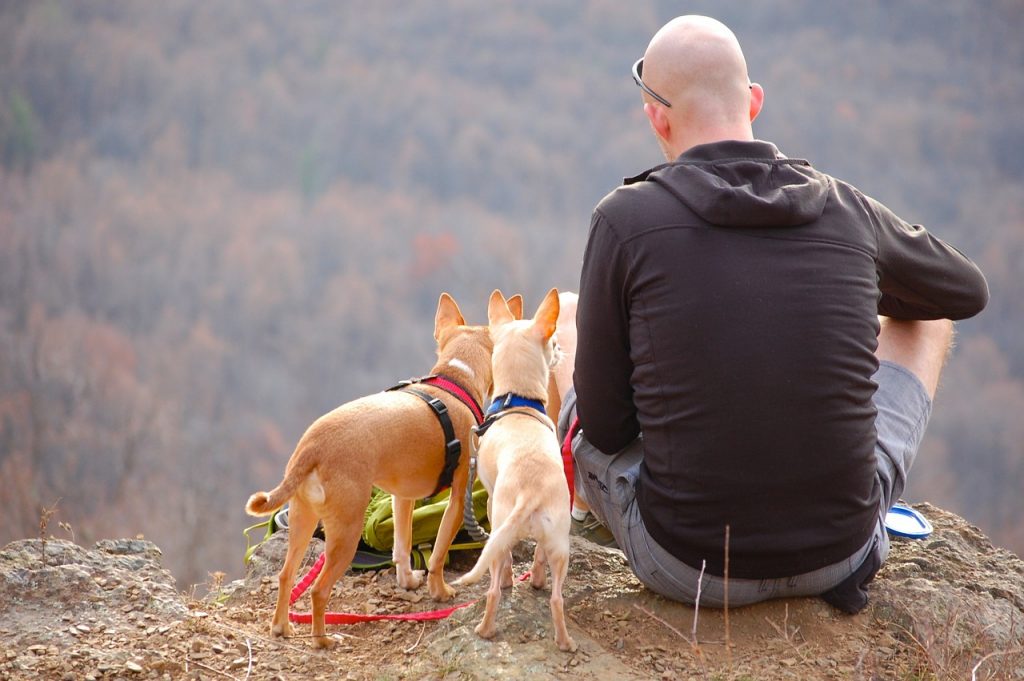 Traveling long distances with dogs is something that's become very commonplace over the past several years. Whether you're going away for a long weekend to one of your favorite oases or you're going far away to a new place you've never been, you have to get there somehow.
If you have a furry friend who's going to be tagging along, you have some extra factors to consider. Packing treats, water, bowls, waste bags, and more are just some of the items you'll have to bring for your pup.
Additionally, you'll want to make sure your clothing and accessories are comfortable and fashionable. From driving in the car for a few hours to a full day of flying in the sky, we have some helpful tips and tricks for staying comfortable while traveling with your dog!
Choose the Right Fabrics
We all love the feeling of cotton on our skin, but it's not always the best to travel in – especially when traveling long distances with dogs.
When you're traversing the globe with your pup, opt for some comfortable polyester. Nylon, spandex, and other synthetic fabrics are great to travel in because they're moisture-wicking, hold their shape, and are incredibly stretchy. This makes them perfect for a long car ride or multiple flights in one day.
Plus, these fabrics are great for a variety of outdoor activities, so you can go straight from travel to outdoor fun in no time!
Synthetic fabrics are also easy to keep clean, and when you're traveling with pets, a mess is bound to happen. Whether it's just a little bit of drool or something…a little more unpleasant and odorous, you'll be grateful you opted for the more forgiving fabric. Moreover, it's difficult to stain these fabrics, so you can feel confident that no matter what happens, your travel clothing will be able to hold up to whatever the day (or your dog) throws your way.
Pack the Right Accessories
Traveling these days can be a bit tricky. With changing travel restrictions and updated guidelines, it's hard to know exactly what you'll need. So, it's always best to have more than you need. From a cute face mask to a classic backpack, having the right accessories while you travel makes a huge difference when you're traveling with your dog.
Be sure to have plenty of storage on hand when you're going away. Storing water, food, leashes, bowls, treats, and more requires a lot of space. Luckily, there are loads of options to choose from. Backpacks, totes, and even fanny packs can get the job done depending upon how large or small your pup is. Plus, if you're looking to add some fashion to your travels, get some cool shades for sleeping on the plane, or get a water-bottle holder that has your favorite breed on it!
Think About Layers & Outerwear
Temperatures are always changing when you're traveling. If you're running through the airport, things tend to warm up, but sometimes those planes get awfully chilly. When you're traveling with your dog, layering up might be the best thing for you. Be sure to have some reliable outerwear on hand to keep you warm and dry. The right outerwear can also function for your pup. It can be used to cover their cage or keep them warm too.
Layering your clothing is a great way to stay comfortable while you're traveling, and allows you to add some extra style to your travel attire.
Opt for Comfortable Pants
Sweatpants and leggings are obviously a go-to when it comes to comfort and traveling, but sometimes you need to switch it up. There are loads of different styles of bottoms that are comfortable for travel, and even jeans can be a great option for traveling with your dog. Mom jeans are great because they have a lot of extra room in the waist and hips, so you can be on-trend and comfortable while you're traveling with your pup.
Coordinate Your Fashion
Traveling with a pet can be a lot of fun. Whether you want to just wear some matching bandanas or are going all out with matching tracksuits, have a little fun and coordinate your fashion! It will always bring a smile to people's faces when they see your adorable pup and you in matching fashions. Plus, there are loads of comfy t-shirts to choose from a variety of apparel stores.
Your Turn!
Choosing the right clothes is a game-changer when traveling long distances with dogs. In all things, remember to wear what you feel best in. For some, that's a pair of joggers and a simple t-shirt. For others, it may be that matching dog tracksuit. Whatever you choose, be sure to be true to your style and choose clothing you love that also suits your needs.