What Is Dispersed Camping?
Dispersed camping means camping anywhere outside of a designated campground. You set off on your own, setting up camp wherever there's space for you to do so. Whereas car camping takes place in designated campsites in the frontcountry, and backcountry camping tends to take place at strategic points along the trail, dispersed camping can be anywhere you want it to.
You may also hear people refer to dispersed camping as "primitive camping" or "wilderness camping". It's a great way to disconnect from the world at large and spend time with the people you care about most—or spend time alone! But it's probably not the best place to start for first-time campers.
Why Do I Want to Try Dispersed Camping?
One big reason is the cost. Most places won't make you pay a fee to just pull off of a forest road and set up camp, or to wander out into the wilderness and pitch a tent in the forest.
But it's not just about economics. Dispersed camping is a great test of a camper's ability. You get to see what you're really capable of when you're not a stone's throw away form a vending machine and a shower. And if you really want to get away from it all—to enjoy nature on its own terms, to get away from your cell phone signal and the obligations of day-to-day life—it's hard to beat dispersed camping.
Where Does Dispersed Camping Happen?
Theoretically, dispersed camping can happen anywhere in nature—as long as you know nobody will complain at you for setting a tent up. National Parks, National Recreation Areas, and National Forests are popular destinations for dispersed camping—especially National Forests.
Federal lands are run by groups like the National Parks Service (NPS), United States Department of Agriculture (USDA) and the Bureau of Land Management (BLM). You may also look for campsites in state lands run by your state's Fish and Game Commission. These groups all have guidelines in place wherever dispersed camping is allowed. The guidelines may change depending on where you are, so you should check them before you set out. (For example, at Fishlake National Forest, the USDA says that you can camp for 16 days before having to relocate. In areas run by the BLM, you must move after 14 days.) Some areas of your favorite park may be off-limits to campers due to sensitive ecosystems, ongoing research, environmental hazards, or other reasons, so you should always be informed ahead of time.
Some recommended dispersed camping spots in Southern California:
What Should I Bring?
The short answer? Anything you might need. Every now and then a park may put a restroom close to an area they know is popular with dispersed campers. But generally speaking, the whole point is to get away from it all. You'll need the Ten Essentials, at a bare minimum:
Navigation (a map, compass, or a GPS with a working battery)
Flashlight or headlamp with extra batteries
Sun protection like sunscreen and clothes that'll protect your skin
First aid for emergencies, including insect repellent
Knife or multitool
Shelter (probably a tent)
More food than you think you'll need
More water than you think you'll need
Weather-appropriate clothing
But you may also consider some other things. For instance, a sleeping bag might be nice! That gets left off the "essentials" list, but sleeping on a bare tent floor isn't the most comfortable thing in the world. Another thing to consider: a lot of dispersed camping areas prohibit campers from starting fires outside of pre-existing fire rings. You might want to get a small single-burner stove so you can cook without a fire, if need be. Finally, you're going to need hygiene items. That means your toothbrush. But it also means toilet paper—and a way to pack that toilet paper back out with you.
Finally, bringing a water filtration system (or being prepared to boil your water before use, or both) can be incredibly helpful. It's a lot easier to filter water you find onsite than it is to carry around all the water you could possibly need for your whole trip. Do a little homework before you go to make sure you know where the local water sources are and what equipment you'll need. Some companies will let you rent camping equipment so you don't have to buy everything up front, making it easier to get involved in dispersed camping.
What Does Dispersed Camping Cost?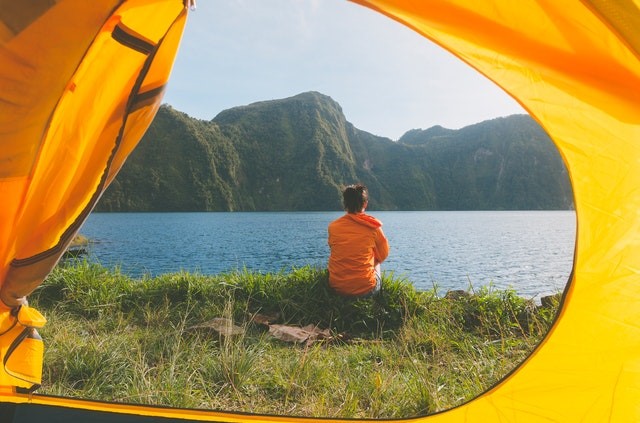 It's possible to go on a dispersed camping trip that doesn't cost a thing in fees. While some parks charge for entry, not all of them do! And many parks, forests, and recreation areas won't charge for dispersed camping, even if they charge for campsite reservations.
That said, there are still costs associated with dispersed camping. You'll need camp gear and a backpack to store it in. And the kind of gear that fits in a pack needs to be lighter and smaller than the kind of gear you can just pull out of your car and set up. That can cost a little extra, sometimes. But the mobility and the freedom to set up wherever you want can make all the difference in the world, to a certain kind of camper.
How Can I Minimize My Impact?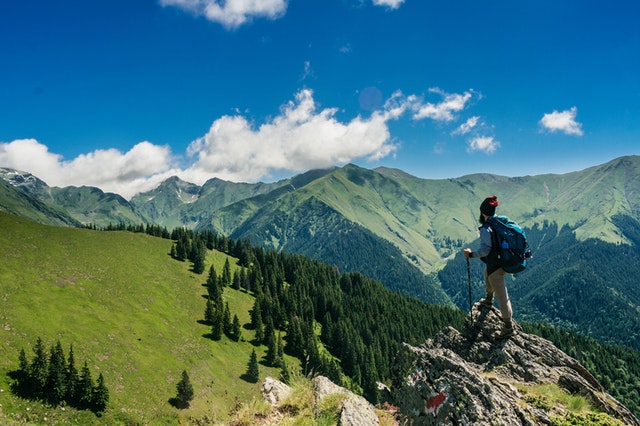 Part of enjoying nature responsible is leaving it in good shape for others to enjoy, too. Here are some things to bear in mind. A good rule is "take only pictures; leave only footprints". But if you want a little more detail than that, here are some good guidelines.
Only build fires in existing fire rings.
If you build a fire, don't chop or break living trees for firewood. Only use wood that you find on the ground.
Make sure your campfire is completely out before leaving it unattended
If you use the restroom in the backcountry, dig a whole at least 6 inches deep, at least 100 feet away from any water source, to do so.
If you brought it with you, bring it back out. Don't leave any sort of litter in the campground. From aluminum foil to water bottles to toilet paper, everything has to get packed out.
Repackage food before you go, to minimize food waste you'll carry around
Good campsites are found, not made. Don't level the ground in order to make a campsite.
Don't approach wildlife
Keep your food secure so you don't accidentally feed the wildlife
Get Away from It All
Dispersed camping can be a fantastic escape. Away from the pressures of your daily life, you can enjoy nature without being elbow-to-elbow with other campers. You can spend quality time with your thoughts, or with the people that matter most to you. There are still plenty of places on this Earth where a person can just set up camp, and a lot of people don't realize that. Once you do, there's no limit to what you can explore.