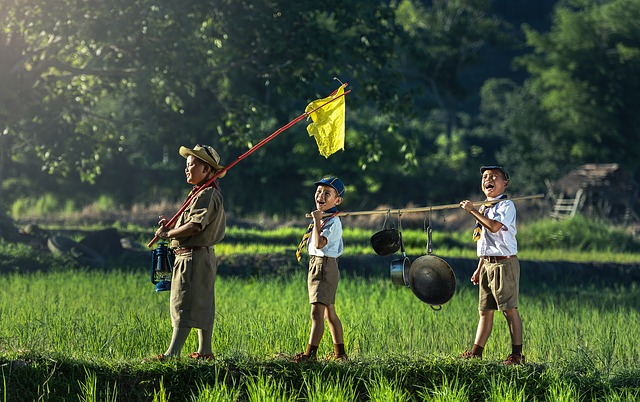 For families who absolutely love the outdoors or parents who'd like their kids to spend some more time away from the bright lights of the city – and their phones – there's nothing better than camping.
Whether you're planning on heading to an easy-access camping site, hiking to the site or creating an entirely new campsite in the heart of the wilderness, there are some safety tips you should follow. We have some important outdoor safety tips for camping with kids to ensure everyone has a great time without getting hurt.
Take a look at our safety tips below.
Note: Impulsive Wanderlust is a participant in the Amazon Services LLC Associates Program, an affiliate advertising program designed to provide a means for sites to earn advertising fees by advertising and linking to amazon.com.
Inform Kids About Plants and Insects
After arriving at the campsite, going over the types of plants and animals to stay away from should be on the top of your list. To make things easier, have some images of the plants or bugs saved on your phone or tablet and make it known that these are off limits.
In addition to informing the kids, you should also have them dressed head to toe in long sleeves and trousers. This way, if they do accidentally rub up against a poisonous plant, they're not going to break out in a rash.
A quick tip here is to make sure you have a protective lotion in your backpack. You can coat your kid's arms and legs in these lotions to block the oils in poisonous plants from entering the skin.
REPEL Plant-Based Lemon Eucalyptus Insect Repellent
Plan Ahead & Choose a Suitable Location
If your family is new to camping, it's always best to choose a suitable location that the kids will be comfortable with. We suggest opting for the easiest campsites that don't require too much traveling or hiking to get to. These reduce the risk of someone getting injured on the way and also make things a whole lot easier overall.
However, parents with kids who are experienced campers and love to go on adventures, then it might be a good idea to look at more adventurous routes. Just be sure to speak with park rangers or other hikers and campers to get some information. On these types of extended camping trips, it's always best to plan ahead and understand the weather forecast, location, and whether you'll need a specific clothing type.
Also consider, depending on where you're going, you might need to book in advance – even for tent sites. For example, places like Yosemite fill up months in advance. Moreover, popular national parks often have intake limits as well as a set number of campsites.
Keep Kids Protected From the Sun and Elements
Like we mentioned above, correct clothing is absolutely vital. The great outdoors isn't as forgiving as your living room at home, and temperature can change in the blink of an eye.
We suggest taking a look at the local forecast and base your clothing off of that, but also to pack one set of clothes for emergency weather events. If a storm brews quickly, or a cold front unexpectedly develops, you don't want kids to be stuck without the correct clothing.
When children are concerned, it's always a good idea to have them wear neon clothing. Even if it's just a jacket with neon stripes, it will keep them visible amongst the trees and grasses.
On top of this, make sun protection a top priority with long sleeves, trousers, hats, and high socks. There's nothing worse than having your child severely sunburnt and unable to sit or sleep comfortably during the trip.
Pack Like a Pro
Arguably the most important part of any camping trip with kids is ensuring you've packed everything you need – and more. As we mentioned above, plenty of appropriate clothing pieces are essential, as is your emergency equipment and plenty of food and water.
It's recommended that you follow a comprehensive guide to packing a backpack to ensure you're not forgetting anything important. Remember, if you're hiking for any part of your camping trip, you'll need to majorly increase the amount of water you take, along with adding plenty of trail bars and other hiking snacks.
Lastly, don't forget that younger kids aren't going to be able to hike too long, or too far with an ultra-heavy backpack. That said, try to pack light, though don't give up any essentials. Adults should, of course, carry the brunt of the weight if the hike to the campsite is far, though heavier packs for the kids are generally okay if camp is less than two kilometers away.
Know the Emergency Basics
Finally, emergency situations need to be handled flawlessly – by the kids too. Before your camping trip, and soon after you arrive, a family meeting is essential. Go over all of the possible emergency situations and highlight that staying calm is important.
Equip the kids with whistles, torches, water bottle, and a snack at all times! If a child wanders off and you're unable to find them quickly you'll want to know that they have what they need until you find them. Consider clipping the water bottle and torch to their trouser belt loops and stuffing a trail bar in a velcro or zip pocket.
A smartphone, additional batteries and a first-aid kit should also be within reach by everyone at all times. Ideally, have the kit placed in the main tent, by the door and make sure your children know it's there.
KidVentures Outdoor Exploration Kit
Final Thoughts
At the end of the day, the most important thing about taking a camping trip with the family is making sure everybody has fun. In a world dominated by posting on social media and receiving thousands of smartphone notifications every day, camping is one of the only times to truly switch off.
Make use of our outdoor safety tips when camping with kids on your next camping adventure and take away the stress that comes with keeping your family safe.