Denver is the jewel of the Rocky Mountains. The Mile High City oozes with both natural and urban beauty. Many of the hotels are fully aware of this and enable their patrons to enjoy both. Any trip here will certainly be an interesting one. Whether you are in town to hit the nearby slopes, catch a game at the Sports Authority Field, sample some legal herbs, or all of the above, Denver is truly a place unlike anywhere else.
If you feel like living lavishly on your next vacation, this city has plenty of options for upscale lodging to make your stay in the mountains something special. Here are three deluxe hotels to consider for your Denver home base.
1. Hotel Teatro
When it comes to a comfortable stay in Denver, Hotel Teatro has it all. Built in 1911 and located in the hip LoDo neighborhood, you are just minutes away from the Colorado Convention Center and myriad of fun activities.
From the moment you walk through the beautiful doors, you are treated like royalty. It's clear that everyone involved in this operation places a high priority on customer service. Everyone from the desk agents to the housekeeping staff consistently go out of their way to ensure you have the best possible experience at Teatro.
There is something about the mountains that invoke a sense of coziness in an accommodation. The lobby reflects this concept down to a tee. The rooms are no different.
Guestrooms come in a range of sizes and are equipped with flat-screen TVs, Keurig coffee makers, 24-hour dine-in-room options, plush robes, and much more.
If you really want to the live large in Denver, upgrading to Chancellor's Suite will be one of the best decisions you will make on your vacation. The inviting wood-paneled walls, limestone fireplace, and awe-inspiring views only scratch the surface for how exquisite this suite is.
One of the best parts of Hotel Teatro is that you don't need to worry about finding a dog sitter while you're on vacation. The staff goes above and beyond to ensure your furry friend(s) live as lavishly as you do while you're here (FOR FREE). In addition to providing fluffy beds and plenty of treats, the staff is happy to line up a spa day for your dog with a nearby specialist!
Dollar-for-dollar, Hotel Teatro is certainly one of the best lodging options in all of Denver. Click here for rates.
2. Oxford Hotel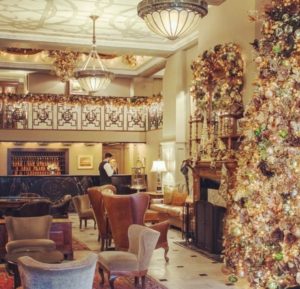 Another option in the LoDo neighborhood, the Oxford Hotel is packed full of interesting history. Opened all the way back in 1891, the architecture of the lobby, rooms, and dining area give off a wonderful ambiance reminiscent of upscale 19th century life on The Frontier. Everything from the construction materials to the décor has a vintage vibe to it. As soon as you walk in the door, you are immediately flooded with a profound sense of classiness.
The staff at this hotel is terrific. Everyone is more than happy to help answer any questions you might have and give recommendations about the neighborhood. It's always refreshing to see a hotel go the extra mile to make sure patrons have a pleasant stay.
One of the premier aspects of this hotel is the bar known as The Cruise Room. This was the first bar opened after the end of Prohibition. Attached to the hotel, this establishment gushes with American history and is aesthetically beautiful in every way.
Each room includes all kinds of authentic elements such as antique headboards, claw foot tubs, bold draperies, and more. In addition to the throwback items, rooms are equipped with high-speed internet, flat screen TVs, and all the present day amenities you know and love. It's quite fascinating to think about all the rich history in this hotel while you channel surf in a comfortable, air conditioned room.
If you've got the coin and want to get the full experience, booking your stay in the Presidential Suite is a decision you won't regret. This magnificent Victorian living space has accommodated some of the most well-known social icons of the past century. It has even played temporary home to a former President!
The Oxford Hotel is truly a gem in Colorado's Illustrious history. Click here for reserve your room.
3. The Brown Palace Hotel and Spa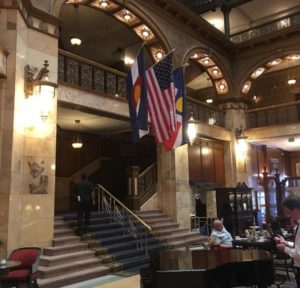 It would be a bummer to write about iconic Denver hotels and not mention The Brown Palace – also located in the LoDo area. Opened in 1892, this lodging encompasses everything about the majestic feel of the Colorado Rockies.
Entering this establishment is very much like stepping back in time 100 years, with all the flashiness of modern technology.
In terms of service, all employees are incredibly professional and supportive for the entirety of your stay. The concierges are happy to help arrange the finer details of your Denver itinerary with their extensive knowledge of the area.
The Brown Palace is home to some of the finest dining options in the city. Whether you're in the mood for some afternoon tea, a delicious brunch, a prime rib dinner, or top-quality pub food, you are guaranteed to find a menu that will tickle your fancy.
When it comes to relaxing, The Brown Palace Spa takes this term to a whole new level with a plethora of massages, facials, body scrubs, nail service, and more. If you want to enjoy a nice lazy day inside, this is perhaps the best place in entire state of Colorado to do so!
The guestrooms at The Brown Palace range from simply amazing to impeccably elegant. Each is arranged in a classical layout that speaks to the rich history the establishment. Upgrading to just about any suite in this hotel will be a luxurious experience you will never forget. The Brown Palace has been a proud destination to countless celebrities and prominent figures throughout its long existence.
Of all the options for accommodations in Denver, this one certainly takes the cake. Click here to book your stay.
Check Out Time
Experiencing Denver, and all its beauty, is something everyone should pencil into their calendar. Regardless of your reasoning for coming to this dazzling city, a vacation here is something you will fondly remember for the rest of your life. If you're planning a trip with the "go big or go home" mindset, these three hotels are among the top choices to call home throughout your visit.
Obviously, these three recommendations only represent a fraction of the luxurious lodging options Denver has to offer. Feel free to let us know of any others!