Seattle is universally recognized for its coffee selection. With all the awesome activities Seattle has to offer, it makes perfect sense that this city values a proper dose of caffeine. Or, maybe it's the persistent gloomy weather that makes this hot drink so appealing.
A 2016 study found that Seattle has 843 coffee shops per capita (670 independents and 173 chains). A list of the best coffee chains is an article for a different day – maybe even a different website. Whether you're on vacation, or are a local looking for a new spot to get your daily jolt, here are five standalone coffee shops to start your Seattle your day with.
1. The Original Starbucks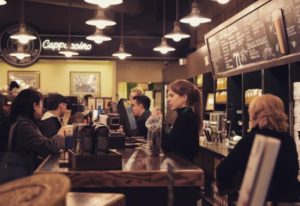 1921 Pike Pl. Seattle, WA 98101
Ok, we know that Starbucks is probably the furthest thing away from the term "local coffee shop." This entry is more for tourists.
Starbucks is one of the most recognizable chains in the world, and Seattle is the proud home of the FIRST location! For that, it deserves an honorable mention. Technically speaking, this spot the second-ever Starbucks. But, as the first one no longer exists, this one now holds the title.
Located in the famous Pike Place Market, the original Starbucks keeps true to its roots that date back to its opening in 1971. Designed with natural hardwoods, warm lighting, and cozy furniture, this place terrifically exemplifies the classic welcoming coffee shop. Once you're inside, it's easy to see how Starbucks became the biggest name in coffee. Due to the novelty, it's more than likely you will experience a long wait for your drink. For Seattle first-timers, this defining piece of coffee history is certainly worth checking out at least once.
2. Elm Coffee Roasters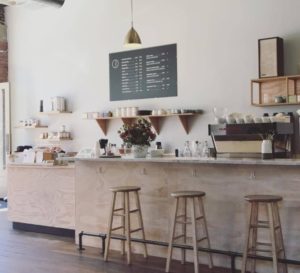 240 2nd Avenue South #103, Seattle, WA 98104
Alright, getting into the one-of-kind Seattle coffee shops, everything about Elm Coffee Roasters represents a quintessential morning in Seattle. Before even entering the store, you are enveloped in the historical ambiance of Pioneer Square.
From the second you walk in the door, the delicious smell of roasted coffee beans and the clean-cut hipster atmosphere take hold. The layout is incredibly spacious and gives off a welcoming vibe for both you and your laptop (there is free Wi-Fi, or course).
The service here is some of the best in the city. The baristas are well-trained and exceptionally helpful throughout your decision making. In terms of food, Elm Coffee Roasters offers all kinds of artisan pastries. If you are just looking for a quick cup of coffee, or want to sit down and get some work done, this is the perfect place.
3. Anchorhead Coffee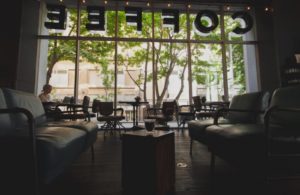 1600 7th Ave Ste 105, Seattle, WA 98101
Anchorhead Coffee is a favorite choice among both travelers and locals. The easy-going atmosphere epitomizes everything a coffee shop should be. Located on the ground floor of CenturyLink Plaza across from Pacific Place, this shop is an ideal place to either energize yourself before shopping, relax afterward, or simply avoid the congestion altogether.
The staff is made up a younger crowd who certainly know how to whip up a delicious drink. Apart from the wide variety of coffee options, this shop is primarily known for the "Quaffle" (not the ball from Quidditch). A Quaffle is the mouth-watering result of combining a waffle, croissant, and a cinnamon roll. As many will attest, this concoction may very well be Seattle's best solution to a persistent sweet tooth!
4. Milstead & Co
754 N 34th St. Seattle, WA 98103
Now located near the water in Fremont, many Seattle locals will tell you that Milstead & Co has the best cup of coffee in the city. The place itself has a very cordial feel to it. The inside is neither too big or too small and has plenty of room for you to grab a hot drink with friends, or spread out and type away on your computer.
Perhaps the best aspect of this shop is the staff. There exists a certain stigma that the knowledgeable barista can sometimes project a snobby demeanor. The crew at Milstead & Co is well-aware of this phenomenon. The baristas are as knowledgeable as they come, yet carry none of the negative traits. Instead, they are incredibly friendly and happy to assist with any questions or concerns you might have. Due to the beautiful location and the wonderful atmosphere, this is far and away one of the finest coffee shops in Seattle.
5. QED Coffee
1418 31st Ave South, Seattle, WA 98144
If you're looking for a nice, low-key spot to get a cup of joe, QED Coffee is the place for you. Uniquely located off the beaten path, this shop is just off of I-90 in the Mount Baker neighborhood.
On the inside, the décor and atmosphere fully embody the simple neighborhood coffee shop. The line is usually pretty short so you don't have to worry about running into long waits. In addition to the made-to-order coffee, QED has an assortment of juices, bagels, pastries, as well as a selection of their own roasted coffee beans.
This is definitely a shop that has a solid set of regulars. The staff is very friendly and makes a good effort to get to know the customer base. When it comes to amicable Seattle coffee shops, QED exhibits the term magnificently.
Conclusion
Seattle and coffee have a special relationship, similar to Chicago's relationship with pizza. Given the seemingly endless selection of Seattle coffee spots, this small list is only the tip of the iceberg. There will certainly be a series on this topic to come. As we are always open to topic suggestions, please don't hesitate to let us know of any other shops to include in upcoming posts.