Travel marketing – and traveling in general – has had a rough year.
Dubbed a "catastrophe for tourism businesses," COVID-19 has wreaked havoc on hotels, restaurants, airlines, and other tourism companies over the past year. As people shelter in place to avoid spreading the virus, vacations were canceled and business trips have been postponed.
Travel industry losses were estimated to result in a GDP impact of $1.2 trillion in 2020. According to French Prime Minister Eduoard Phillipe stated, "Tourism is facing what is probably the worst challenge in modern history."
However, this isn't surprising news to anyone by this point. We all know that tourism businesses are struggling to get back on their feet – even as vaccines are rolled out. What is interesting to consider today is what the future of travel marketing looks like in a post-coronavirus world.
According to many experts, we will begin to see an influx in travel after the pandemic has subsided. How will hotels and tourism companies market themselves after such an influential global crisis? What will change in their advertising, and what will remain the same?
Although no one can know for certain, we've got some pretty strong predictions backed by solid evidence and changes happening. Let's take a look at what the future of travel marketing looks like – in our opinion.
Hygiene and Sanitization Will Be Key
This first point likely comes as no surprise. In a society where Clorox wipes are flying off the shelves at the speed of light, we all know that sanitization has become hugely important in the wake of COVID-19.
Looking back to previous years, we all valued cleanliness in our travel accommodations and activities, but it wasn't a life-or-death attribute. Now, people aren't going to just want clean environments – they're going to expect them on a whole new level.
As Ashok Lalla Tweeted in reference to the Four Seasons in the early stages of the pandemic, many hotels will upgrade their health safety standards to meet the requirements of government and healthcare expectations. When they advertise their rooms and amenities, sanitization processes will become a key talking point.
Marriot experimented with ultraviolet light to sanitize devices and room keys. American Airlines released a "structured cleaning regime" that reportedly exceeds all CDC guidelines. These are just two of the big chains making noticeable announcements, but there are dozens of others releasing similar statements.
If tourism businesses, from airlines to restaurants and beyond, don't begin to market their improved sanitization habits, we suspect that they'll struggle to thrive in a world coming off of such a traumatic healthcare event.
In that same vein, intense sanitization isn't the only new measure that will continue to be prioritized. Most of the world is currently "social distancing." In other words, we're standing far enough away from each other to avoid spreading dangerous germs and viruses.
Think about your past travel experiences. How many times have you been jammed into a third-row seat on an airplane? Forced to share a small bathroom in a hostel? Sat at a table this close to the couple next to you?
Many people have predicted that we will struggle to go back to close conditions like these after a global pandemic. Travelers will want their own space to feel safe and protected, even after coronavirus is no longer such a pressing threat.
Hotels are reportedly removing some of their pool furniture and lobby seating to encourage more distance between visitors. Airlines are working to keep the middle seat open when possible. Tours are limiting the number of people allowed in each vehicle or boat.
Not only should travel businesses market their hygienic cleaning standards, but they should also use spacing and comfort as a key selling point.
It doesn't matter if you're a part of a huge hotel chain or a small rental business – the travel industry has been massively impacted, and to thrive in the aftermath of COVID-19, you must adapt to many of the health changes that have been implemented.
Don't just sell your location, amenities, or designs. Ramp up your travel marketing by talking about safe practices, cleaning habits, and spacious accommodations that make people feel comfortable. Just because the coronavirus isn't permanent doesn't mean that people will change their minds about the importance of cleanliness and safety.
A Strong Focus on Inspiration
Our next prediction revolves around the themes of future travel marketing campaigns.
In recent years, tourism companies tried to drum up business immediately. They offered "buy now" sales and tempted people to book their next getaway ASAP.
However, that kind of ploy isn't going to do any company much good in a period where we live in day-to-day uncertainty. We don't know when travel will officially resume at the level it once held, and even if it does, people will likely be more hesitant to place bets on immediate vacations.
This brings us to our prediction: future travel marketing strategies will revolve around travel inspiration more than calls-to-action.
Take a look at this quiz released by AVL Today.
Chances are if you're at all interested in travel, you've seen dozens of entertaining polls like these. We might not be able to actually book travel, but that doesn't mean we can't dream about where our future excursions will take us.
Pinterest has already reported a jump in searches for "summer vacations" and travel inspiration, as well as "bucket list ideas." People might not be traveling, but they're certainly thinking about it and prioritizing their future trips once this global health scare has ended.
Similarly, you'll see on platforms like Instagram that travel photos are still more popular than ever. People love the concept of exploration and relaxation – and for now, they'll seek those concepts where they can, which is online.
In terms of future travel marketing, we expect to see a continued emphasis on "inspirational" travel. The state of the economy, COVID-19, and many other factors might make it difficult for people to actually plug the trigger on trips, but tourism businesses can still entice prospects through engaging, motivational advertisements and content.
Travel Marketing Geared to Domestic Rather Than International
If there's one unanimous opinion coming from travel experts across the globe, it's that international travel won't return to its former state for multiple years. We won't be flying overseas like we used to right away, even once travel restrictions have been lifted.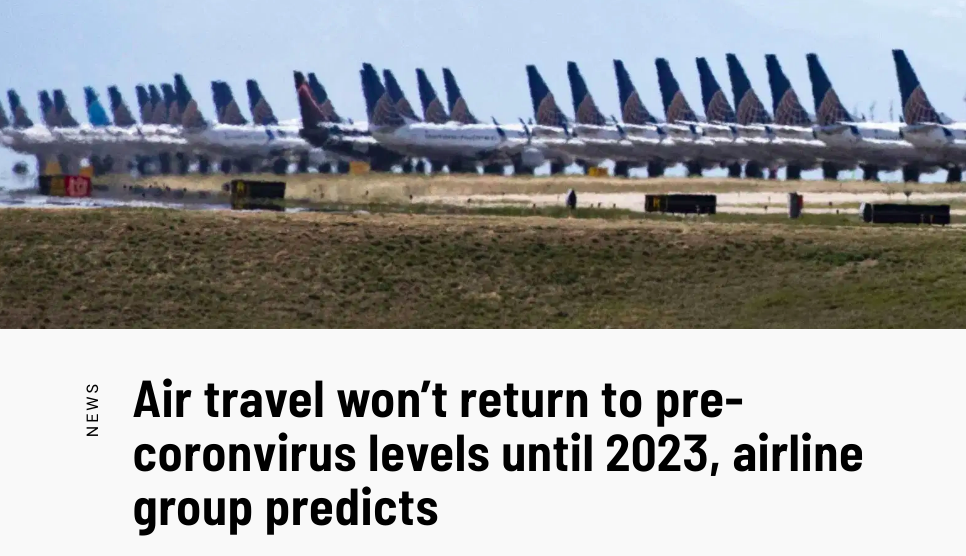 Therefore, from a marketing standpoint, it doesn't make much sense for most tourism businesses to target international travelers any time soon. The likelihood of people traveling across different countries with ease is low – so it might be time to target a closer audience.
Advertise to those in your state or even just down the street. Travel doesn't have to be far to be meaningful or enjoyable, and customers will likely agree in the wake of such a traumatic global event.
Additionally, we've seen a huge emphasis on supporting local businesses rather than those in other countries or even states. Small to midsize businesses are struggling to stay above water right now, so conscientious travelers will likely want to support them over large tourism businesses scattered across the globe.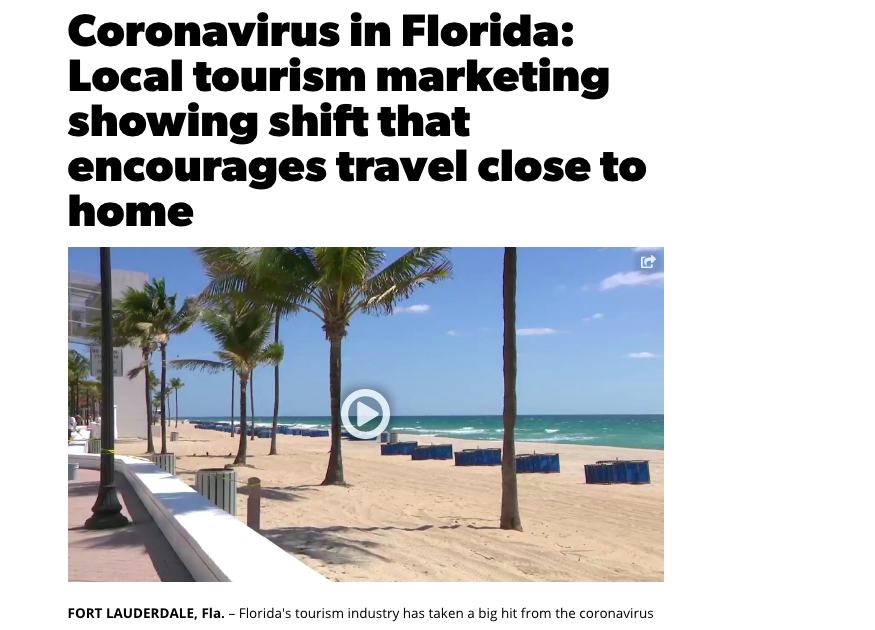 In hard-hit places like Florida, people are already discussing how tourism marketing has shifted toward a focus on local travel activities and accommodations. Even though travel will remain low for some time, Fort Lauderdale businesses and other travel companies in the sunshine state are focusing on customers who can drive to their locations rather than fly.
If most small to midsize travel companies are to recover, they'll need the support of local explorers. We predict that most will ease into future travel marketing with campaigns specifically targeted at their neighbors, friends, family, and others close by.
Jump on the "support local" bandwagon and call to those who are near. We expect that many will listen, especially if international travel remains difficult.
Opening Up Cancellation Policies
The next prediction is a big one: travel companies will need to advertise their flexible cancellation policies in order to score future bookings.
With thousands of flights canceled and even more hotel reservations rescinded over the past year, both businesses and travelers have realized just how important it is to have a clear cancellation policy in times like these – and in the event we see another wave of the virus. We believe flexible cancellation options will become a big selling point for all kinds of travel businesses, even after coronavirus has been contained.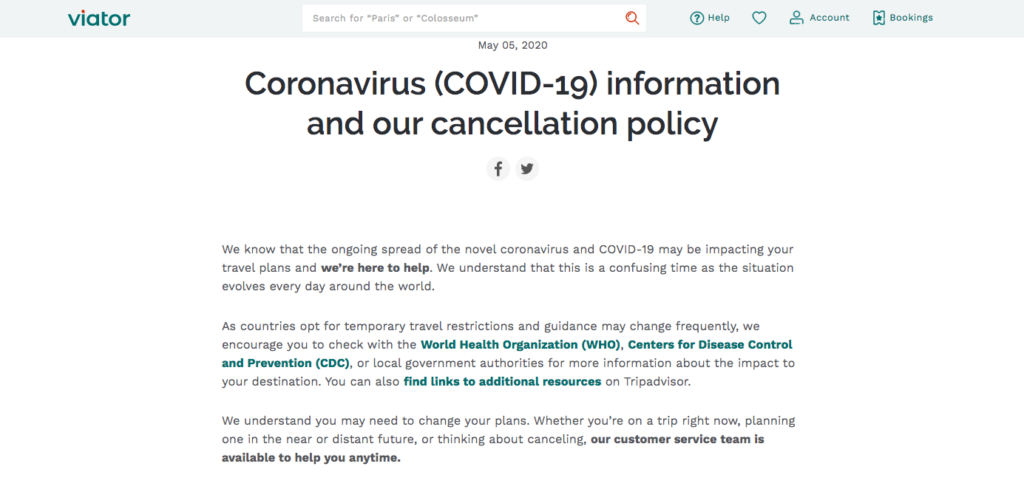 Many companies, including Viator, have already released big statements on how they're handling COVID-19 cancellations from here on out. Whether they're dealing with a current cancellation or booking something for the future, customers want to know they have a way out in these uncertain times.
The more travel businesses openly advertise their flexible cancellation policies, the better off they will be when it comes time for increased domestic and international travel. If we know one thing, it's that people are going to be hesitant to book any trips soon if they can't get their money back.
Hoping to score some future bookings while COVID-19 travel restrictions are still in place?
We suggest following in the footsteps of companies like Travel Zoo.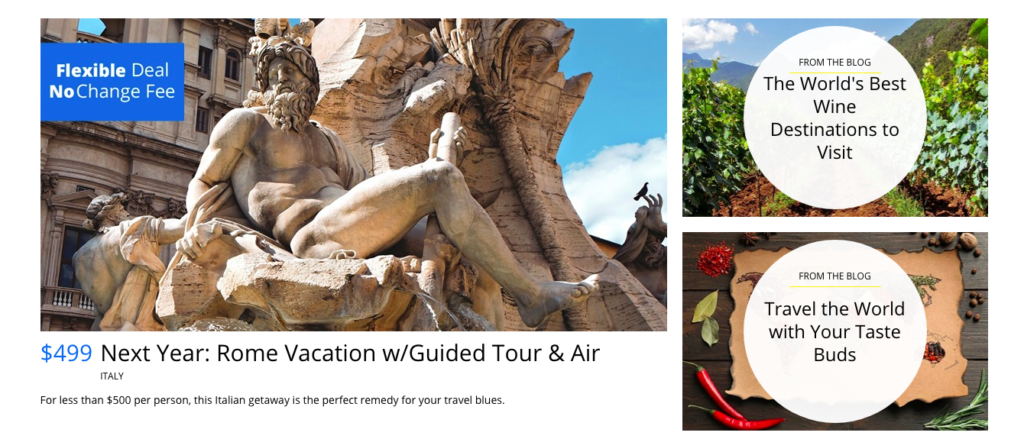 They offered some amazing deals for 2020 – all with flexible pricing and no change fees in case quarantine measures are extended.
Personalize, Personalize, Personalize
Last but not least, let's talk about a marketing strategy that has been growing and changing rapidly, especially during COVID-19: personalization.
People around the world are facing very different, very unusual circumstances right now. Some are out of work (or unable to work) due to the pandemic. Some are facing health struggles that leave them extra aware of risks. Others are battling mental health concerns as they spent much of 2020 couped up.
If there's ever been a time that personalization is key, it's now. People want to know that businesses are hearing their specific requests and needs, especially when it comes to travel marketing.
Ask yourself this: do you know why people book with your travel company? What are they looking for and why do they think you can give it to them?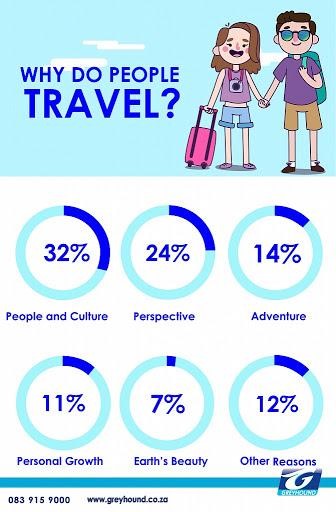 Take a look at the graphic above. A large chunk of people reportedly travel for exposure to people and culture, but there are also good portions of travelers seeking perspective, adventure, and personal growth.
We predict that those reasons won't change, even in a post-pandemic world.
Pay attention to what you think your target audience wants from future travel experiences. We predict that travel companies who work to really personalize their new marketing messages will have a better chance of reaching individuals as the world opens back up.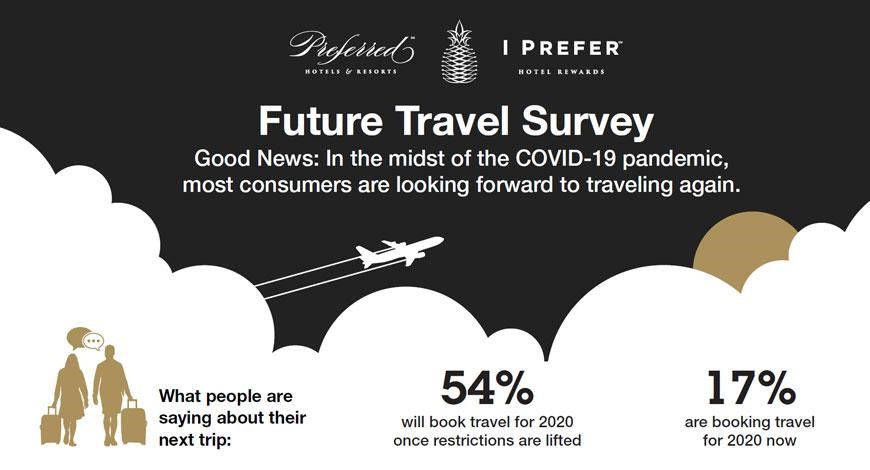 Feeling like there's no point in personalization when no one is traveling? Try not to despair – we will travel again. In fact, statistics show that people are already planning and looking forward to their next trips if possible. Travel gives people something to look forward to – and during COVID times – it's a light at the end of a tunnel.
Use this low period as a time to learn about your customers. What are they going through, and how can your travel business hit their passion points and personalize their experiences?
In Conclusion
The future of travel marketing is certainly somewhat up in the air – but with vaccines rolling out, the end is in sight. If you pay attention to what customers want and how travel is changing, you can make some smart predictions about the future of the industry and its advertising.
Travel restrictions and COVID-19 regulations won't last forever. How will your travel business compete against others once things calm down?
Our suggestions are to highlight sanitization, inspirational content, and great cancellation policies. Centralize your advertising to the people in your area and personalize experiences to meet the needs and expectations of anxious travelers.
The travel industry is starting to recover – and it's giving travel marketing a new meaning.