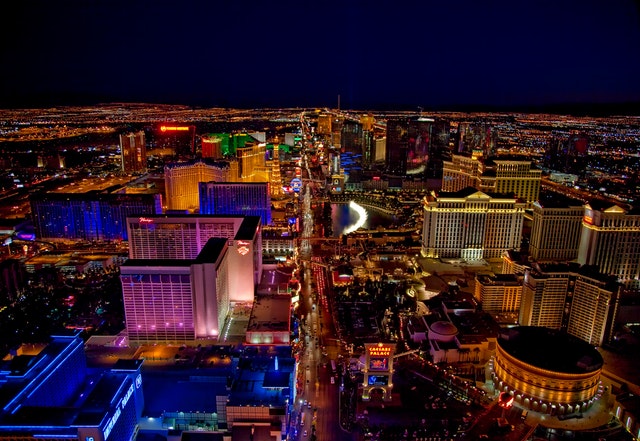 So, you're heading to the City of Sins for a long weekend. You know what this crazy place has to offer – gambling, drinking, parties, clubs, and of course, great food. Choosing just two or three places to eat can be challenging in an area where some of the best chefs in the world come to compete.
Additionally, finding an affordable place to eat can difficult. Let's discuss some of the best places to eat in Las Vegas on a budget, as well as some of the most fun places to eat in Las Vegas. Fortunately for you, these lists overlap more than you would think!
Whether you're reading a Vegas food blog or asking someone walking down The Strip, you'll likely encounter praise for this delicious restaurant. Although the prices can be quite high at dinnertime, you can attend a scrumptious breakfast for roughly $15/person. The best part? If you sit on the patio, you have a gorgeous view of the Bellagio and its famous fountains across the street.
Situated just outside the Paris hotel on the strip, Mon Ami Gabi serves a variety of French food prepared to perfection. Whether you're looking for the best Bananas Foster in the world or something a little more extravagant, like wild escargots de Bourgogne, you can find it here. Just be sure to make reservations in advance. Otherwise, you'll wait in line for a long time to dine in one of the top places to eat in Las Vegas on the Strip.
If you're searching for fun places to eat in Las Vegas, look no further than this sweet dessert pit-stop. Although they do serve regular food, people don't come to Sugar Factory for lunch or dinner. Instead, they come to try one of their crazy sugary confections.
Milkshakes covered in cookies and s'mores. Drinks that foam and dissolve in cotton candy. Alcoholic beverages that taste like sour gummy worms. Whatever dessert you can dream up, Sugar Factory probably has something close to it. Although the place is quite expensive, there are often Groupons for the Strip location, so check beforehand to see if you can snag a deal!
As one of the best ambiance restaurants in Las Vegas, but also a hidden gem, SEA is a unique place to spend an evening. Calm and serene, the restaurant holds small seating around a lovely fountain with floating flowers. You can't help but feel you've escaped all of the hustle-and-bustle once you've entered.
Located inside Bally's, the restaurant offers a mixture of Thai and Vietnamese foods that will entice any foodie. The Pad Thai is amazing, and if you like spicy food, there are more than a few dishes the wait staff can recommend. The menu can look pricy at first glance, but if you can grab a Groupon or another discount, it's surprisingly affordable. You can also share appetizers to cut down on the cost a bit instead of ordering full entrees.
Let's be honest; although you might have planned to look up lunch specials in Las Vegas during your stay, you'll likely be sleeping in after a late night out. The best cure for a hangover? A smorgasbord of a buffet in the Flamingo hotel on the Strip.
On weekdays, the brunch is $25/person, and on weekends it's $30/person. This might seem steep, but once you experience the huge array of food and the bottomless mimosas, you'll see why the price is worth it. After stuffing yourself on pancakes, made-to-order crepes, omelets, mac and cheese, and so much more, you'll agree that this is one of the most fun places to eat in Las Vegas.
If you don't want to stray from the Strip but you're in search of some of the best Las Vegas dining, consider stopping by Le Village Buffet for dinner. After all, buffets are kind of what Las Vegas is known for. This one features a delectable selection of French food, from tasty meats to delicate desserts.
The design of this unique buffet also makes it worth visiting. It's decorated as a beautiful, outdoor Parisian courtyard. Complete with stars above and plants climbing down the terraces, you'll feel as if you've traveled to another country.
In Conclusion
Even if you're traveling on a low budget, you can easily eat at some very fun restaurants in Las Vegas! Just do your research ahead of time – there are many restaurants that will appear fun but that are actually overpriced.
These five options will leave you full and satisfied, but won't break the bank. Give them a try, and remember, what happens in Vegas stays in Vegas, so eat as much as you want.