When you visualize Las Vegas, what do you see? Gleaming hotels? Bougie bars? Casinos with hundreds of slot machines and poker tables? If so, then you're not wrong, but the entire experience might be more affordable than you think. Las Vegas has something for everyone, not just the rich and famous.
Here are 4 Las Vegas hints and tips that will help you fully embrace the best of the entertainment capital of the world without breaking your budget.
1. Don't Stay Directly on The Strip
Staying in one of the incredible hotels along The Strip is a staple in many people's Las Vegas must do list. Whether you're staying in the ARIA or The Venetian, you'll certainly feel like a superstar with their art and amazing architecture.
However, if you're looking to stay in the area on a tight budget, you might need to skip the famous hotels located directly on The Strip. Instead, broaden your search a little to encompass hotels just a few minutes away from the main street. For instance, The Tuscany Suites and Casino is just a ten-minute walk from main attractions like The Paris and Flamingo hotels, but it's substantially more affordable. And who knows, you might even find some hidden gems!
Plus, just because you are staying at a hotel that's off The Strip doesn't mean you have to miss out on the fancy hotels. Anyone can walk through big sections of the hotels you've seen in movies countless times, so feel free to try out different casinos and bars in places you aren't even staying. When I went, I barely spent any time in my hotel room because I was exploring constantly, so I was glad that I didn't shell out hundreds of bucks a night for a place I barely saw.
2. Walk as Much as You Can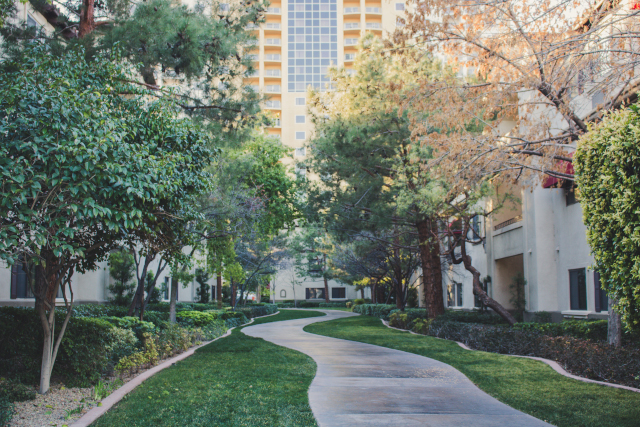 This sounds like the complete opposite of the glamorous trip you were planning, I know, but it really will save you big bucks if you try to walk as much as possible. Think about it this way: if every Uber ride costs you about $10, then even just traveling to and from your hotel every day costs about $20. Throw in a few extra rides each day and you'll easily rack up a high transportation cost.
Instead of constantly hailing a cab or calling a car on your smartphone, explore The Strip on foot. You'll find that it's a great way to see more of the area and that you might actually enjoy strolling around. One warning: bring comfortable walking shoes. You don't want to be one of those women walking barefoot for miles while carrying her heels.
3. Look for Groupon Deals to Buffets and Dinners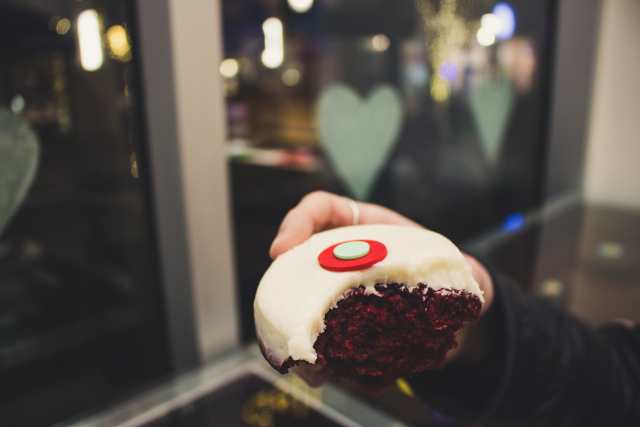 If you haven't been to Las Vegas, then you've truly never seen such a vast array of top-notch restaurants, smorgasbord buffets, unique dessert shops, and fancy bars. It's easy to let your stomach steer you towards pricey restaurants, but the problem is, all of those meals add up.
A great way to embrace the area's cuisine is to do a quick search online for Groupon deals. This might sound ridiculous, but you can often find coupons for some of the big hotel's awesome breakfast buffets (like the Paradise Garden one, which I definitely recommend). You might even stumble across steakhouse bargains or drink specials. My fiancé and I dined at a pricey Thai restaurant for about a third of the usual cost, just because we conducted some research on how to save money in Las Vegas using coupons.
4. Set Aside an Allotted "Gambling Fund" and Stick to It
Here's the thing: when you're in Vegas, you have to gamble. Skipping the casino experience would be like going to Walt Disney World without seeing Cinderella's Castle. It's just the thing to do. However, those fancy casinos will drain your bank account faster than you can say "just one more shot!"
The key to keeping your spending under control while hitting the casinos is to come up with the exact amount of money you're willing to lose. If you are comfortable losing $20, then that's your gambling fund. If you would be fine losing $100, then increase your fund to that amount. Don't go into the situation expecting to make money (because you probably won't). Instead, assume that the gambling fund will be lost. It's the price you pay to experience the world of casinos for a little while.
Furthermore, if you're already planning to lose your gambling fund, you won't be disappointed if you don't have any luck. In the rare chance that you do make a profit, it'll just be an unexpected bonus!
The Bottom Line: Decide to Spend Less Than Everyone Else
You need to decide what's right for your bank account, not everyone else's. Plenty of people will drop thousands of dollars on a weeklong trip, but if you're smart, you can play by a different set of rules and save plenty of money. The best part? Your trip will still be a wonderful experience, even if you don't fork over a huge chunk of your savings to fund it. After all, you're in Vegas!