Everyone can probably picture that a cliche tourist armed with a fanny pack and a camera taking travel photos. You want to document your trip, but you don't want to come across as a silly tourist snapping away.
Fortunately, there's a way to find a middle ground between taking travel photos and staying respectful. With these tips, you can cover your entire trip without feeling like every other tourist crowding the street. Plus, you'll probably like the photos you wind up with more!
1. Take Meaningful Travel Photos
A couple of years ago, Conde Nast Traveller released a list of the most photographed landmarks in the world. Since 2013, the Eiffel Tower has been photographed and posted on Instagram more than 4 million times. So, if you're wondering how to not look like a tourist in Paris, avoid taking tons of pictures here. Times Square has been Instagrammed 1,100,344 times, and Big Bend has been posted more than two million times from every angle possible.
As an American tourist, I understand wanting to take pictures of these famous landmarks, but the truth is, it's pretty much impossible to snag a picture that's unique. Millions of tourists from around the world are stopping to memorialize the sight every day, and chances are, you'll find the exact same photos they're taking scattered across Google and social media.
When you look back on your travel photos someday, you won't want to see a picture of Cinderella's Castle at Disney World for the hundredth time. You'll want to see photos that are meaningful to you – ones of the crew you traveled with and what you did while you were there.
Strive to take more pictures of the people you're with and care about than you do of famous landmarks. You won't have to fight dozens of other tourists for the photo, and you'll cherish it more later on.
2. Learn to Ask for Permission When Necessary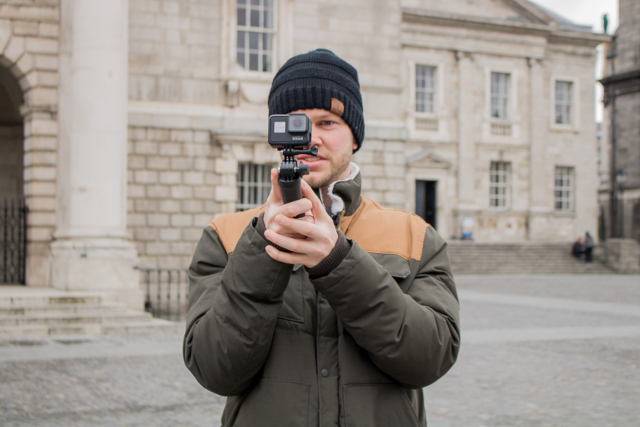 If you get the feeling that you're intruding on a local person's space or property, you probably are. It's perfectly acceptable (and even smart) to ask for people's permission before taking photos. For instance, when you're walking through a public market or neighborhood, stop to ask people if it's alright before videoing or using photography.
In the same vein, don't assume it's okay to take a photo just because someone else is. When you travel, you're visiting someone else's home country. Respect that and don't act as if locals are anomalies worth documenting. Their homes, bodies, products, and activities deserve to be treated with politeness.
Snapping photos of people without their consent is rude and inconsiderate, so no matter how many pictures of locals you see posted on social media, learn to ask permission. You'll be surprised by how many people say yes, and you might even make some special connections with strangers this way.
3. Visit Popular Sites at Odd Times of the Day
To get a great picture of a popular location, your best chance is to shoot during an off period. This might require waking up at the crack of dawn or learning to shoot in the low light of the late evening, but you'll get better photos without forcing your way through crowds of tourists.
Good photography requires patience. I am by no means an expert photographer, but I do want to capture my travels with integrity and skill. It takes time to get a shot that's worth keeping. You likely won't get a great photo on the first try, and by visiting at a less crowded time, you'll be able to experiment more and get the pictures you really want.
4. Get Off the Beaten Path
Good luck taking a picture at Lake Louise that doesn't have someone else in it. As one of the top tourist destinations in Alberta, Canada, the lake plays hosts to thousands of visitors. Although the site is beautiful and worth photographing, there are already millions of photos in existence that document the same image.
In contrast, when I visited Banff, I went to the less-visited Yoho National Park next door. There, we found beautiful green and blue water that was completely deserted! Yes, I'm glad we still saw Lake Louise, but our pictures from the isolated places in Yoho are the ones I treasure today.
Visit the popular attractions, but understand that every destination you visit has so much more to offer than just what's presented in the top photographs on social media. Explore to find sights you've never seen documented by other people.
In Conclusion
Although you shouldn't worry about what people think of you, it's perfectly normal to feel uncomfortable acting like a tourist in a place other people call home. The stereotypical image of a tourist shoving their camera through the crowd isn't one most travelers want to embody.
Avoid feeling intrusive or cliche by taking pictures with purpose, treating others with respect, and getting off the beaten path to find unique photo opportunities.