San Diego is a melting pot. Whether it's the crowd of people looking to escape cold winters (people like me), engulf themselves in beach life, or simply get a fresh start, "America's Finest City" pulls people in from all over the world. The result? San Diego restaurants have some of the most deliciously diverse options in the country!
Let me preface by saying this piece barely scratches the surface of the amazing restaurants in San Diego. Think of this as a "starter pack" list of places to chow down on a quick stay in SD.
1. Seafood: The Fish Market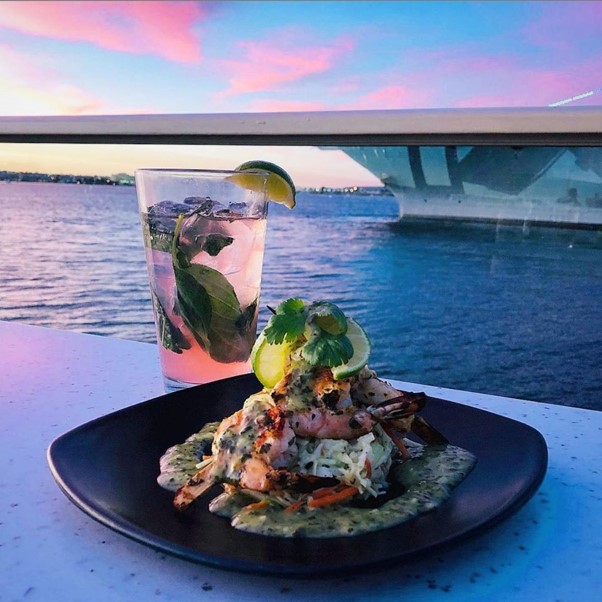 A nice seafood meal is a must in any coastal city you visit. The Fish Market in San Diego is arguably the best place to get seafood on the entire west coast! Seriously, this place is amazing!
Opened by a sport fisherman, a boat captain, and a business partner, The Fish Market has been impressing patrons with delectable meals since 1976.
Whether you're in the mood for oysters, fish tacos, smoked fish, sushi, lobster, crab, or any other delicious food that comes from the sea – this place has you covered!
Insider tip: I used to work the valet stand (a lifetime ago) in front of this place and would occasionally get samples from the sushi chef – believe me, it's the real deal!
In addition to a diverse menu with plenty of options, you can buy fresh fish at the counter right inside the front entrance.
The location of this place is phenomenal! Located on North Harbor Drive right next to the Midway Museum, you can enjoy your seafood feast with a fantastic view of the San Diego Bay. Of all the San Diego restaurants I've been to, this one has a special place in my heart!
Address: 750 N Harbor Drive, San Diego, CA 92121
Pro tip: Parking in this area is a nightmare on weekends (I used to work valet for this place).If you can, try to Uber to the restaurant.
See the menu.
2. Mexican: El Agave
Plain and simple: you CANNOT go to San Diego without trying some local Mexican food!
The tricky part about Mexican food in San Diego is there are an insane amount of delicious options. I could probably write a book on my favorite Mexican restaurants in SD, but for this post, I'm going to share my absolute favorite: El Agave!
Something I've learned about Mexican restaurants – if there are a lot of cool-looking tequila bottles on the wall, the place is probably reallygood and really authentic! El Agave is no exception; the restaurant has over 2,000 unique bottles of tequila on display – it's basically a tequila museum!
Normally, I'm a creature of habit when it comes to restaurants. If there is a meal I love at a place, I usually stick to it. El Agave is an anomaly to that! My two favorite dishes here are the lobster burrito (which is packed with lobster) and the chicken mole. Be sure to try as many of the homemade salsas as you can – you won't regret it!
El Agave is located in Old Town not terribly far from the coaster station. The service is amazing and the Mexican cuisine is second to none! Regardless of whether you're in town for an extended vacation or a quick couple days, El Agave is a must on your tour of San Diego restaurants!
Address: 2304 San Diego Ave, San Diego, California 92110
3. Sushi: Azuki Sushi
The term "California sushi" has quite a bit of clout tied to it. While there a million sushi joints spread across the city, Azuki Sushi is one of the best ones you'll find. Known for generous portions at reasonable prices, the service, presentation, and taste make this place a force to be reckoned with in the San Diego sushi scene!
Azuki Sushi doesn't try to get too gimmicky with the interior. While the inside is clean and updated – the vibe is a simplistic sushi bar focused on making a mean roll! They make it a point not to go heavy on the rice so you can fully enjoy the fresh fish. My go-tos here are the super dragon and the scorpion rolls – both are amazing!
Azuki Sushi is located in Bankers Hill just a block away from the famous Balboa Park. After a few hours of exploring, a roll at this place is the perfect plan!
Address: 2321 Fifth Ave, San Diego, CA 92101
4. Thai: Lotus Thai
Seafood, Mexican food, and sushi all have a special place in the lineup of San Diego restaurants. The reality is that most visitors don't necessarily come to San Diego for Thai food. Hopefully, I can help to change that paradigm!
There are tons and tons of amazing Thai restaurants spread across San Diego. Whenever I'm downtown for dinner, Lotus Thai is always a top choice. I spent a semester in Thailand before college, so I like to think I know what good Thai food tastes like, and this place DEFINITELY fits the bill!
The service here is known for being super fast and friendly – a combination that is tough to master in the restaurant biz. Even when the place is packed, we've always gotten our food pretty quick. After a nice appetizer of crispy spring rolls, my favorite dishes here are the mus-sa-man curry and yellow curry.
Pro tip: don't get cocky with the spice level the first time – you might end up regretting it!
Lotus Thai has two locations in the San Diego area: one in the Gaslamp Quarter and the other in Hillcrest. Hillcrest is the original.
Addresses:
Hillcrest: 3761 Sixth Ave, San Diego, CA 92103
Gaslamp Quarter: 906 Market St, San Diego, CA 92101
See menu.
Dig in!
So there you have it!
Whether you're living like royalty in a San Diego resort or roughing it for a quick stay, these four restaurants should definitely be on your radar for the next visit!
To reiterate, this is merely a microscopic list of the awe-inspiring collection of San Diego restaurants. This post will almost certainly be followed up with a part two, three, four, and maybe even a full eBook!
Bon Appetit!