Being an introvert is not always easy, especially if traveling is one of your biggest passions. Many of the best European destinations are usually packed with tourists, and that is great for extroverts who are always ready to mingle. However, when it comes to shy, more reserved travelers, super crowded places can trigger unpleasant feelings, like anxiety. But this doesn't mean you have to give up exploring new beautiful places, even though you might have to choose your destinations wisely. Sure, you can't miss seeing bustling London, but try to spend your longer vacations in less busy places, where your timid soul can feel safer and more comfortable.
If you are now wondering where those places are or where to find travel tours for introverts, check out this list and read about some of the best springtime destinations that would make any introvert feel at home.
Tenerife, the Canary Islands
 
Located in the middle of the Atlantic Ocean, the Canary Islands are welcoming all kinds of travelers and promising a relaxed vibe to all introverts who love exploring Mother Nature, as well as getting in touch with themselves while unwinding at the beach.
Tenerife is considered by many the most beautiful of these islands, and it offers introverts the chance to enjoy exciting outdoor activities, to indulge in tasty foods, and admire spectacular volcanic beaches. Whether you love hiking, cycling, swimming, surfing, or other watersports or extreme activities like paragliding, Tenerife will be your paradise. And, if sports are not your cup of tea, you can always grab a good book and relax on the island's charming shores.
Transylvania, Romania
If you are an introvert, there are many chances you are also a book lover. In this case, you most likely know all about Bram Stocker's notorious character, Count Dracula. Well, Transylvania, Dracula's home, is a real place, and it is very introvert-friendly. Located in Eastern Europe, more specifically in Romania, this piece of heaven welcomes its visitors with great history, fascinating legends, spectacular landscapes, castles, and fortresses, as well as hearty foods.
Just pack your comfortable shoes, because there is so much to explore in Transylvania. Don't miss wandering around the charming alleys of Viscri, a tiny but picturesque village. Also, check out a bigger but still not too crowded city, like Brasov. If you are a foodie, stop at "Sergiana", the favourite traditional restaurant of all hungry locals and excited visitors.
Cinque Terre, Italy
Italy is one of those special countries everybody loves. But this shouldn't be a surprise since it has a great past, it's filled with impressive monuments, beautiful architecture and famous pieces of art, and you can find natural beauty everywhere. However, for introverts, some of Italy's best cities can be both heaven and hell. So, if you can't stand crowds, forget about Rome and Milan, and head towards the romantic Cinque Terre.
Don't think this destination is not on almost every traveler's bucket list. Its mesmerizing landscapes, a relaxed atmosphere, and welcoming restaurants are some of the reasons people love this Italian destination. But, somehow, no matter how crowded these villages get, the Cinque Terre remains a place where introverts find joy and peace. If you want to visit all five villages, get ready for an ultimate hiking experience or hop on the train because cars are not allowed in this area.
Bruges, Belgium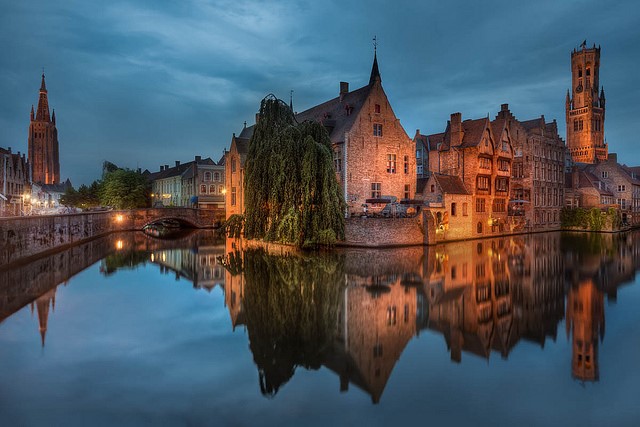 Avoiding big cities is best for introverts. But small cities can be a great destination for you. For instance, if you want to see Belgium and understand its culture, spend less time in Brussels and relax and explore charming Bruges instead. The small, medieval town is a fantastic choice for shy travelers who are passionate about art, architecture, and history.
Days in Bruges can be both exciting and relaxing. You can wander around the cobblestone streets, enjoy the great café and restaurant scene, and of course, indulge in delicious foods. Who can say no to waffles? And if the night is your favourite time of day, you will instantly fall in love with this town, because it is one of the most beautifully lit places in Europe.
Algarve, Portugal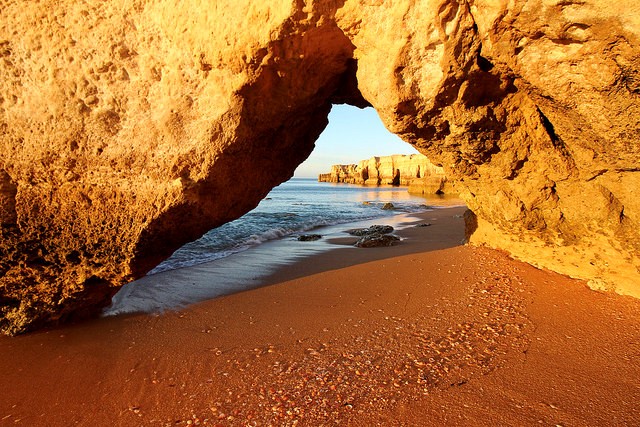 Portugal is an amazing country and Lisbon is definitely one of Europe's best cities. But if you want to have a memorable vacation far from all the groups of tourists, the Algarve is the perfect Portuguese destination.
With some of the best beaches in the world, breath-taking views, and quiet spots for your soul, the Algarve can easily become every introvert's favourite destination. Admire Ponta da Piedade and Cape St Vincent, visit the Ria Formosa National Park, as well as the region's most picturesque places, Tavira and Lagos. Indulge in delicious Portuguese dishes and relax on warm beaches with nothing but a book and a glass of local wine. Isn't this heaven for an introvert?
The Wrap
Don't make the mistake of believing being an introvert means you will never enjoy travel as much as the next person. On the contrary, there are certain destinations that will be much more suited to your mentality, and which you will be able to enjoy fully. Pick one of these destinations for your next trip, and you will surprise yourself with the amount of excitement you greet it with.