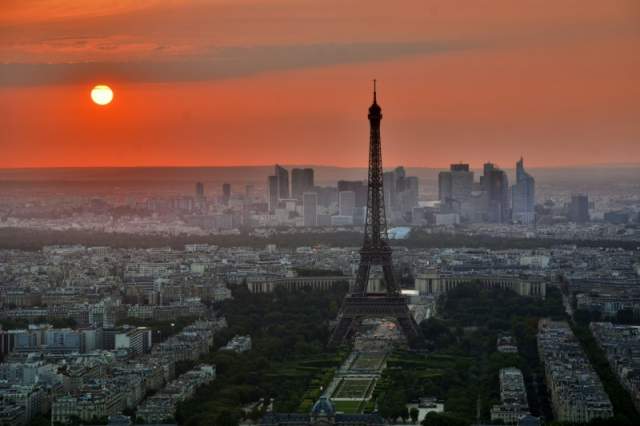 If you have even a few hours to spend in The City of Light, you're in luck. No matter how many times you've glimpsed the Eiffel Tower on television or pretended you were French while munching on a macaron, there's simply no substitute for visiting this magical place in person. Although most people would probably prefer to spend a week touring its elegant streets and quaint bakeries, you don't necessarily need more than two days to soak up the city's culture. Whether your're looking for the best restaurants in Paris, France, cultural hubs, historical hotspots, or anything else, there is something to do around every corner!
When in Paris for under 48 hours, here are the top few things to do, the foods to gobble up, and the ultra-touristy exhibits to cut from your schedule.
The Sights to See
The Notre-Dame Cathedral. Whether you were a fan of Disney's lovable hunchback while growing up or not, this is an attraction that's far from overrated. You might have to wait in line to enter the cathedral, but once you do, it's worth the effort. Medieval artistry, beautiful sculptures, and brilliant stained glass make this place of worship a sight to behold. Added bonus: entry to the main part of the sanctuary is free, so you won't even have to budget for this part of your trip.
The Louvre. I know what you're thinking; isn't standing at the back of an anxious crowd just to get a glimpse of the Mona Lisa an American tourist cliché? Well, perhaps, but come on: if this is your first time in Paris, you simply have to check out the Louvre museum. The building itself will make your jaw drop with all the gilded edges and painted ceilings.
Arc de Triomphe. You've seen this monument on countless postcards, so why not view it in person while you're visiting the city? The Arc is at the western end of the Champs-Élysées, and chances are, it's height (160 feet tall) will impress you. It was ordered by Napoleon in the early 1800s to glorify the army, so you can see a historical sight while also taking a peek at the famous streets nearby.
The Eiffel Tower. This one is pretty much a no-brainer. At least once in your lifetime, try to grab a seat on the lawn underneath this massive latticed structure. It's surreal to look at, especially at night when it twinkles with golden lights. Consider taking the elevator to the second floor so that you can take in a birds-eye view of Paris in all its glory.
Sacred Heart Basilica of Montmartre. This Roman Catholic Church is a bit of a trek from many of Paris' most popular tourist attractions, but a trip there is well worth the expense and time. It's situated on a hill that provides expansive views of the city, and its architecture will have you snapping pictures left and right. Regardless of your religion, I'd highly recommend visiting the inside of the sanctuary during a scheduled Mass for heart-wrenching singing and soothing lit candles.
The Foods to Eat
There's a reason French cuisine is considered to be one of the best in the world, and there's nowhere better to start your foray into the country's food than in Paris. While in the city, be sure to book at least one fancy dinner at a well-reviewed French restaurant. Order something a little pricier than you're used to; like duck confit or a richly-cooked steak. Finish the meal off with an artfully-crafted crème brûlée. If you drink, make sure to pair your food with a fine bottle of French wine.
Whenever you get peckish while exploring the city, there are a few foods you simply must try. Visit a crepe shop for thin pancakes that come wrapped around savory or sweet ingredients. Also, duck into a local bakery with tempting window displays for an eclair or pastry of some sort. Trust me, French bakeries do not disappoint, especially if you get there early in the morning. Additionally, there are many delectable macaron shops, so be sure to snag a few, even if they have a heavy price tag.
The Things to Skip
Climbing to the very top of the Eiffel Tower. Yes, some part of you wants to know that you made it all the way to the tip-top, but most visitors would recommend skipping it. The tickets to the top are quite a bit more expensive than the ones to the second floor, and the view doesn't get that much better, so it's best to stick with the more affordable option.
The Moulin Rouge. I know Nicole Kidman has you dying to check out this famous locale, but the average reviewer thinks the experience is pretty overrated. The shows strike most as cliché, if not downright lewd. Plus, tickets are pricey, so save your money for other amazing Paris attractions.
Shopping on the Champs-Élysées. Remember, you have very limited time in this city that is bursting with history and fun attractions, so don't waste your time in stores simply because they are on a famous street. Take a peek at the Champs-Elysees when you visit the Arc de Triomphe, then move along to avoid throwing away valuable dollars and hours.
Tacky souvenir shops. They might seem like they offer good deals on Paris sweatshirts and keychains, but in reality, their products are a dime a dozen, literally. One man actually offered me a handful of Eiffel Tower keychains for a dollar, all of which looked like they'd break if I simply held them too tightly. Skip these stores and stick to more reputable retailers if you must purchase something to take home with you.
Over to You
Although this list might seem a bit overwhelming, even novice travelers can check most of the items off in under two days. In the words of Audrey Hepburn, "Paris is always a good idea," even if you've only got 48 hours to dash through its best attractions.
Keep in mind, whenever you are traveling abroad, you are representing your country just as much as you are representing yourself.