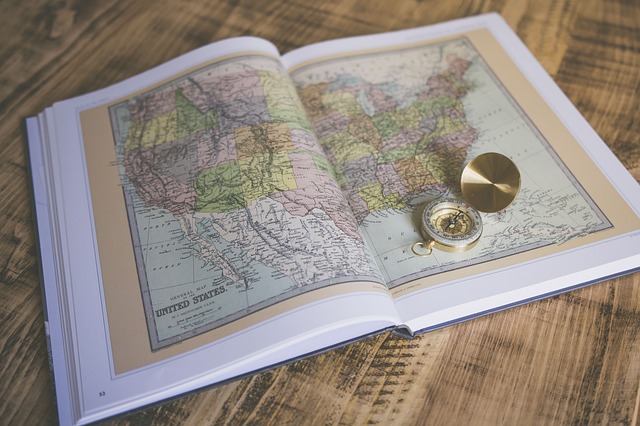 Regardless of your destination, there are all kinds of travel books available to help guide your journey. Moreover, with resources like Instagram and Tumblr constantly sharing pictures of the world's beauty, most of us get a heavy dose of wanderlust on a daily basis. However, these simple photos don't always give you the details you need to make your travel dreams a reality.
These ten travel books aren't just full of pretty pictures; they're also guides to making your travel dreams more concrete. Each one of them will leave you wanting to book a new flight as soon as you crack the spine. The question is, where will you go first?
Note: Impulsive Wanderlust is a participant in the Amazon Services LLC Associates Program, an affiliate advertising program designed to provide a means for sites to earn advertising fees by advertising and linking to amazon.com.
1. Destinations of a Lifetime: 225 of the World's Most Amazing Places by National Geographic
In this photographic tour of the world, National Geographic helps you buff up your bucket list with hundreds of breathtaking, vivid images and informative descriptions. Travel from incredible seashores to vast mountain ranges with each page turn. After reading Destinations of a Lifetime, you'll have dozens of locations (if not more) to add to your future travel plans. Plus, this book makes a great addition to your coffee table with its stunning pictures and pretty cover.

Buy the book on Amazon here.
2. Journeys of a Lifetime, Second Edition: 500 of the World's Greatest Trips by National Geographic and George Stone 
Instead of simply showing pictures of amazing destinations, this travel book includes everything from detailed maps to valuable travel tips. Not only will it inspire you to plot a course to a new place, but it will also arm you with much-needed advice. With Journeys of a Lifetime, your planning experience becomes a whole lot easier.

Buy the book on Amazon here.
3. Lonely Planet's Ultimate Travel: Our List of the 500 Best Places to See… Ranked
If you're someone who enjoys top ten lists and prioritizing your goals, then this is the travel book you need to keep on your shelf. It takes things a step further than most books by highlighting hundreds of the most amazing places on this planet, then ranking them. This can help you strategize your next few years of travel so that you see the best of the best soon.
Buy the book on Amazon here.
4. The Bucket List: 1000 Adventures Big and Small by Kath Stathers
This travel book doesn't just list places; it lists experiences. From kayaking with orca whales in Canada to glassblowing in the Czech Republic, The Bucket List contains thousands of adventures you'll want to plan someday. Check each experience off one by one and use the unaccomplished items to fuel your next trip.
Buy the book on Amazon here.
5. World's Best Travel Experiences: 400 Extraordinary Places by National Geographic and Andrew McCarthy
McCarthy, an actor and award-winning travel writer, reveals his top travel destinations for readers who dream of far off places. If you want to keep up with the latest travel trends in recent years, then you have to know what McCarthy has been up to. His words and images will give your wanderlust plenty of inspiration.
Buy the book on Amazon here.
6. Destination Earth by Nicos Hadjicostis
After traveling the world for almost seven years and visiting 70 countries, Hadjicostis has one fascinating story to tell. He frames his adventures in terms of philosophy and hidden connections, revealing just how powerful people and their cultures can be across the planet. He'll help you plot your course while also delving into how transformative travel is if you do it correctly.
Buy the book on Amazon here.
7. National Geographic Rarely Seen: Photographs of the Extraordinary by National Geographic and Stephen Alvarez
Be forewarned: this book will certainly steer you offer the beaten path. Stephen Alvarez has captured some of the rarest sights on this planet, and he shares the best of them with you in this spectacular photojournal. Whether it's 30,000-year-old cave art or volcanic lightning, at least one of these photos is sure to spark your curiosity.
Buy the book on Amazon here.
8. How to Travel the World on $50 a Day by Matt Kepnes
For those of us that are on a strict budget, Kepnes has solutions. He's been running his budget travel site, Nomadic Matt, for years, so he knows what he's talking about when it comes to exploring frugally. He'll help you plan logistics, hunt down bargains, and keep your spending in check while traipsing across the globe.
Buy the book on Amazon here.
9. 1,000 Places to See Before You Die: Revised Second Edition by Patricia Schultz
This book will help you plan every aspect of your next trip, from budget-conscious restaurants to hidden gems in the world's most popular countries. There are photographs to inspire you and well-developed descriptions to keep you informed. With Schultz's help, you'll be a master world traveler in no time. Be sure to grab the second edition, which includes 200 more entries than the first.
Buy the book on Amazon here.
10. Moon USA National Parks: The Complete Guide to All 59 Parks by Becky Lomax
You don't have to leave the United States to have an epic adventure. There are more than 84 million acres of national park land in America, so start exploring the hidden wonders of the states before you head to other countries. Lomax's book gives you the comprehensive planning resources and travel book guides you need to take on every national park from Yellowstone to Yosemite. She even includes tips on how to avoid crowds, where to stay, and what you should pack.
Buy the book on Amazon here.
Over to You
If you have a burning desire to see the world, purchase any of these awesome travel books to give your coffee table a bit of an exploration-themed makeover. You'll find yourself skimming the glossy pages over and over again, dreaming of the day you can quit your nine-to-five and see the world.