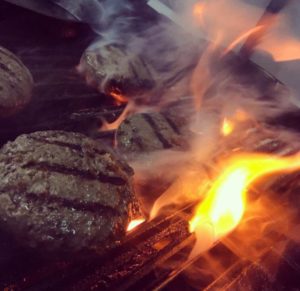 The Twin Cities (Minneapolis and Saint Paul) are known for many things. In addition to the Mall of America, these cities are no strangers to delicious food options. Most restaurants in the area feature a signature take on the classic burger. With an abundance of choices, pinpointing the elite circle can take a good deal of probing and taste-testing.
Many would argue that the Twin Cities possess their own unique style when it comes to burgers. After sampling a few variations, it's likely you will feel the same way!
Without further ado, here are six noteworthy places to grab a burger in the Twin Cities.
1. Casper & Runyon's Nook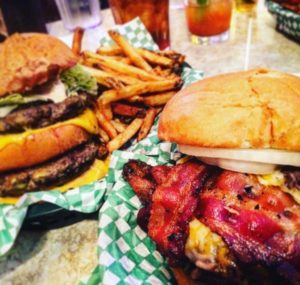 Casper & Runyon's Nook, or just The Nook, is a small restaurant that specializes in big, juicy burgers. Located in the Highland Park neighborhood, this joint is perfect for a hearty meal after a long day's work. The atmosphere is that of a relaxed dive bar.
The thing that sets Casper and Runyon's apart is the ingenuity that goes into their burgers. There is an excellent selection of creations to choose from and none will disappoint. The Reuben and firehouse burgers are staple items of this menu and the fries are some of the best in the city. If you're really feeling hungry, or skipped a meal prior to coming in, challenge your stomach's capacity with the nookie supreme burger!
2. Red Cow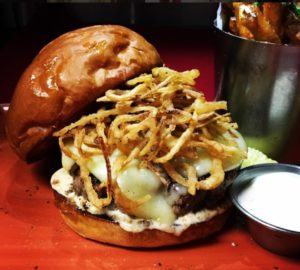 Red Cow recently opened their fourth location. Once you try a burger at one of them, it's obvious why they are beginning to establish an empire within the Twin Cities food scene. The burgers are delicious across the board. The cooks do not shy away from being innovative with their creations.
If you really want to do it right, or are only in town for a short stretch, be sure to try the Double Barrel burger. This 2016 Twin Cities Burger Battle winner entails two patties of ground sirloin, chuck, ribeye, and a number of premium cuts. Additionally, the burger comes topped with rich horseradish sauce, grilled onions, and American cheese between a brioche bun. Although the fries are tasty, you won't regret upgrading your side to cheese curds, sweet potato fries, or truffle fries.
Service here is great and the restaurant has a comfortable atmosphere perfect for chowing down on a juicy burger.
3. The Blue Door Pub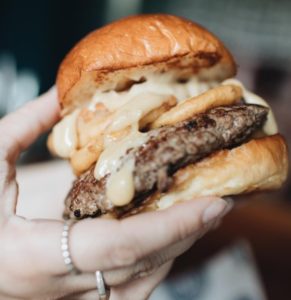 With three thriving locations and plethora of creative takes on the classic burger, it's safe to say The Blue Door Pub is in the elite circle of options throughout the Twin Cities. While each menu varies based on location, each boasts the signature "Blucy," which entails two juicy Angus patties topped with garlic and delectable bleu cheese. This, however, is only the basic version of the flagship order. There are a couple other variations of the Blucy complete with bacon, cheddar, and all kinds of veggies.
The service and vibe of these joints are among the cities' finest. There is something about a cozy pub atmosphere that makes a burger taste better! Any meal at The Blue Door Pub will undoubtedly lead to future visits.
4. Matt's Bar
What makes this Powderhorn staple so great is they stick to the philosophy that "keeping it simple" produces the best results. First-timers definitely need to try the famous "Juicy Lucy." This take is widely considered one of the original burgers to feature stuffed cheese. Be warned, you DON'T want to dive right in as soon as it arrives at your table, unless you want the cheese in the middle to hit your mouth like lava. While everyone has their own method, it's wise to eat around the outside while the molten center cools down.
The look and feel of Matt's Bar is that of an inviting throwback diner, and the staff is very well-trained. Anyone visiting should definitely pencil in a meal at this Minneapolis gem! The restaurant ONLY ACCEPTS CASH AND LOCAL CHECKS, so be sure to hit the ATM before.
5. Lowry Hill Meats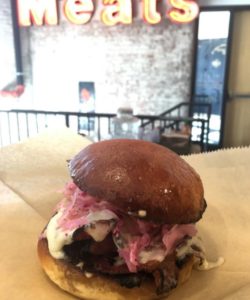 Lowry Hill Meats, located in Uptown, is far and away one of the best places to grab a burger in the Twin Cities – maybe even the United States. Being that it's technically a butcher shop, the meat you get at this place is about as fresh as it gets. From the second you walk in, your eyes are treated to a display case full of mouthwatering cuts. The shop offers its pristine burger on special every Wednesday. The sandwich is topped with gooey American cheese and a bunch of vegetables. If you're feeling extra hungry, you can double down on the beef and add a fried egg.
The shop itself is small and comfortable and the atmosphere oozes of one of clear adjective: quality.
6. Parlour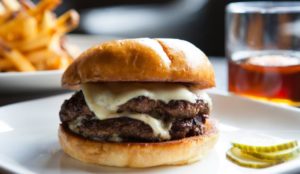 Other than the lush farmland and friendly attitudes, the Midwest is renowned for stellar food. Parlour is a perfect representation of this concept. Located in the North Loop neighborhood, this upscale basement bar is one of the pioneers of the Twin Cities burger scene.
While the menu changes from time to time, the burger isn't always on the dinner menu. If you go around lunchtime, you will be treated to a combination of ground ribeye, brisket, and chuck topped with garlic and cheese between a delicious buttery bun.
Parlour leans more toward a fancy intimate vibe, making it ideal for a quiet lunch.
Over to You
The Twin Cities are an undisputed burger hotspot of the United States. Keep in mind, there are plenty of burger places in the area that go far beyond this small list. Per usual, if there are any others you feel need to be talked about, don't hesitate to let us know. We are always open to more suggestions!