San Francisco is one of the most fascinating places in the United States. The City has a unique culture that is unlike anything else on the planet. Whether you have one day in San Fran or you live here permanently, there is always something to keep you busy.  In addition to the strong vibes of creativity and innovation, the nightlife in this town is among the finest west of the Mississippi River. If you aren't into the club scene, there are tons of quiet bars in San Francisco to enjoy a drink!
Whether you like dancing to loud, pumping music, or prefer to spend your evenings in a more laid-back setting, everyone can enjoy the festivities of the Golden City. This post will focus on the latter.
Here are five dive bars in San Francisco for a nice, relaxing night out.
1. The Sea Star
2289 3rd St. San Francisco, CA 94107
Since opening in 1899, The Sea Star has struck gold in finding the perfect balance between a dive bar and classiness.
As soon as you walk in, the term "old school cool" will undoubtedly be one of the first things to come to mind. Placed in the Dogpatch neighborhood, the inside is filled with all kinds of rustic décor and is equipped with TVs, a pool table, jukebox, and more.
The mixologists at this dive bar in San Francisco are known for their creativity. One of the most interesting aspects of the bar is the unique varieties of beer/shot combinations and mixed drinks. Be sure to try a sampler if you're feeling adventurous.
The crowd at this place is very composed and friendly – both the staff and the patrons. If you're looking for a fun night in the comfort of a timeless neighborhood bar, this is the place to go. Happy hours are from 4pm – 7pm Monday through Friday.
2. Tunnel Top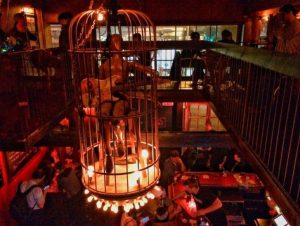 601 Bush St. San Francisco, CA 94108
Nestled in the Financial District, Tunnel Top gives off a vintage speakeasy ambiance ideal for a casual drink with friends.
The upstairs is a nice open area equipped with comfy lounge seating and an awesome view of the outside. The happy hour is great at this place and the bartenders can really whip up a good drink. While there is a big arsenal to choose from, the whiskey drinks are especially good here and the pricing is reasonable for San Fran.
Tunnel Top rarely gets super packed, so you will have plenty of room to enjoy the good music. Depending on the time of year and where you choose to sit (or stand), the place can get a little toasty. Overall, this is a great choice for a mild night out. Happy hours are from 4:30pm – 7:30pm.
3. Bar 587
587 Post St. San Francisco, CA 94102
Regardless of when you go to Bar 587, you'll be glad you went.
Whether it's for happy hour or a nightcap drink, this is one of the best quiet bars in San Francisco for any relaxed situation. Perhaps the best part of Bar 587 is the service. You are treated like an old family friend as soon as you walk in – regardless of how many times you've been there. The employees are well-trained to make just about any custom drink you can imagine. If you're in the mood for beer, Bar 587 prides itself on supporting a number of local California breweries.
If you need something to munch on, the tasty bar snacks are all made in-house. Located in Union Square, Bar 587 fits the bill perfectly for a calm night filled with awesome drinks. Happy hour is from 4pm-8pm every day.
4. Black Hammer Brewing
544 Bryant St. San Francisco, CA 94107
When it comes to low-key bar/breweries, Black Hammer Brewing, located in Mission Bay, is among the best in the city. As most San Francisco beer connoisseurs know, this place always has something delicious on tap.
The main priority of this brewhouse is to strictly provide great beer. They don't mess around with any wacky gimmicks or over-the-top décor. There is plenty of room to stand and move around. Even better, the place is dog-friendly!
In terms of the beer itself, many of the names are inspired by Burning Man to reflect the positive, free-loving vibes the owners aim for. In addition to the brews, there are plenty of games to enjoy with the whole group. Snacks are provided and you are more than welcome to order or bring in your own food. Happy hours run from 12pm – 2pm Monday through Saturday.
5. Cresta's Twenty Two Eleven Club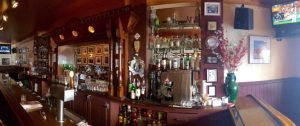 Photo Credit: Yelp
2211 Polk St. San Francisco, CA 94109
Cresta's Twenty Two Eleven Club doesn't try to do anything fancy or posh. They simply go for a friendly and cozy vibe – and it works! The place is the quintessential example of low-key.
If you want to go to a bar and have a nice conversation with friends, this is the place for you. The staff at Cresta's is always welcoming and helpful in making sure you get a good drink. Placed in Russian Hill, this bar is a wonderful break from the typically high-energy neighborhood.
The atmosphere has the inviting old-time feel of your classic neighborhood bar.  On the weekends, the place can sometimes get a little cramped during peak hours, but it's not usually unbearable. If you're looking for a pleasant drink or two away from the hustle and bustle, don't hesitate to drop by! Happy hours run from 4:30pm – 6:30pm Monday through Friday.
Closing Time
San Francisco is known for groundbreaking tech innovation during the day, and an unforgettable nightlife once the sun goes down. According to Yelp, there are nearly 3,000 bars in The Golden City.
This small list of quiet bars in San Francisco barely scratches the surface of the mild-mannered bars out there. Luckily, the topic can always turn into a series! If there are any spots you would like to see get mentioned, please let us know and we will keep adding on!